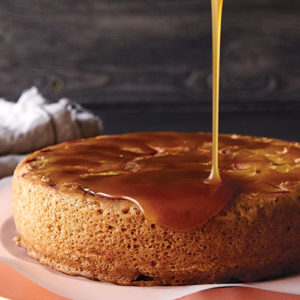 By Kristi O'Toole
A spicy apple cake with salted caramel sauce, a definite flovor of the season.
Ingredients:
Cake
Oil for brushing pan
1 red apple such as Gala, Braeburn, or Fuji
1 pkg (15.25 oz or 515 g) spice cake mix
1 ½ cups (375 mL) unsweetened applesauce
Salted Caramel Sauce
½ cup (125 mL) pure maple syrup
2 tbsp (30 mL) butter
Coarse sea salt
Directions:
Brush the bottom and sides of the Rockcrok® Everyday Pan with oil using the Chef's Silicone Basting Brush.
Core the apple using The Corer™. Cut the apple in half crosswise, then slice the apple halves using the Simple Slicer on the #3 setting. Cut slices in half.
Starting at the edges of the pan, carefully arrange the apple slices, slightly overlapping, in the bottom of the pan.
In a large bowl, whisk the cake mix and applesauce until blended. Spoon the batter over the apples and spread evenly.
Microwave, covered, on HIGH for 10 minutes, or until a wooden pick inserted in the center comes out clean. Remove from the microwave, uncover, and let stand for 10 minutes.
Place the syrup in a small saucepan. Heat over medium-high heat until small bubbles form, stirring occasionally. Add the butter; stir until butter is melted. Bring the mixture to a boil. Boil 1 minute, stirring constantly.
Remove from the heat; let cool 15-20 minutes or until thickened (similar to the consistency of honey).
Carefully invert the cake onto a serving platter. Just before serving, drizzle with the caramel and sprinkle with salt.
Kristi stays busy with her writing, shoe designing and Pampered Chef business so she knows how precious time can be; she also knows how important eating healthy and showing your children life beyond fast food can be. The Pampered Chefs Happy Families segment is designed with busy lives in mind. The recipes presented will be fast, easy and affordable to everyone. The tools you need to complete these meals can be found on her personal website.
[si-contact-form form='3′]