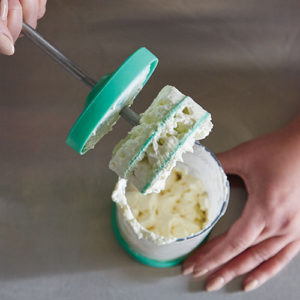 By Kristi O'Toole
This recipe is so quick and easy everyone can have fresh chemical free home-made butter at home in seconds. No kidding. The money we'll save makes me giddy, not to mention NO CHEMICALS.
Ingredients:
Heavy Whipping Cream
Hot water
(no kidding)
Directions:
Remove base of Whipped Cream Maker. Pour heavy whipping cream into Whipped Cream Maker until it reaches the bottom of the fill line.
Place hot water in Small Batter Bowl. Carefully place container into the hot water bath. Let stand 20 minutes. Remove from water bath. Wipe off container and place into base.
Top with lid and plunge up and down for 30-60 seconds or until resistance is strong and solids are formed.
Remove plunger and scrape off butter between the pieces, using a table knife or the releasing end of the Cake Tester Releasing Tool.
Pour off excess liquid … or drink it, its only buttermilk
Add butter to a bowl and gently blend, (at this point place butter on a piece of plastic wrap; roll-up and refrigerate until ready to use.
Kristi stays busy with her writing, shoe designing and Pampered Chef business so she knows how precious time can be; she also knows how important eating healthy and showing your children life beyond fast food can be. The Pampered Chefs Happy Families segment is designed with busy lives in mind. The recipes presented will be fast, easy and affordable to everyone. The tools you need to complete these meals can be found on her personal website.
Comments or questions are welcome.