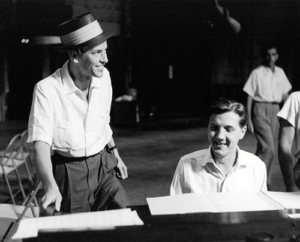 By Jerry Pearce
In the early months of 1958, Frank Sinatra was in preparation at Capitol Studios in Hollywood, gearing up for what would be his sixth recorded collaboration with arranger Nelson Riddle, the poignantly beautiful "Frank Sinatra Sings For Only The Lonely." Sinatra would later cite the album as his favorite; both he and Riddle would later claim at various times that it contains their best work together as musical partners.
At this point of the 1950s, Sinatra was deep into his obsession with the "concept album," a formula in which he recorded a collection of songs that were based around a certain theme or feeling, a technique he had begun at Columbia Records some twelve years before and perfected at Capitol. With the songs this time based around the emotions of lonlieness, Sinatra chose a program of twelve songs echoing the sentiments of lost love.
One of the songs chosen for the album was a tune written by the dynamite team of Harold Arlen and Johnny Mercer, the incredible "One For My Baby (And One More For The Road," first penned in 1943. Although Sinatra had recorded the tune twice before in his career (Columbia in 1947 and for the film soundtrack of "Young At Heart" in 1954), this 1958 recording would take its place as a defintive reading of perhaps the greatest saloon song of all time. The composition tells a story (often explained by Sinatra in concert) of a man whose woman has left him for another, and during the course of a night, he works his way from bar to bar until he comes upon an empty saloon, where he regales his tale of heartbreak to the bartender ("Joe") on duty. It remains today as one of Sinatra's signature, career-defining moments as a vocalist.
Nelson Riddle's lush musical arrangement for the song is complimented by the soft, barroom-like accompaniment that both opens and closes the song by the pianist. The opening piano solo itself has become immediately recognizable by Sinatra fans in the years since, beautifully played by longtime Sinatra accompanist, Bill Miller.
Miller's tenure as a sideman is perhaps the longest in the Sinatra canon, a musical partnership that lasted the better part of fifty years, followed behind closely by guitarist Al Viola and drummer Irving Cottler. Unlike anyone in the contingent, Sinatra, who reportedly couldn't read music, counted on Miller to be his musical voice in creating and refining the type of sound that he wanted to hear behind him, things that the singer could only explain in layman's terms.
Sinatra himself often mentioned in interviews that most albums began with Miller and himself at the piano, with Sinatra choosing tunes, picking the proper keys to sing them in, and then perfecting his phrasing behind the music, which would then be relayed to Riddle as the arranger crafted the full orchestral charts. It would be safe to say that the genesis of many Sinatra performances began long before he stepped before the studio microphone, rather while working out logistics with Miller tinkling the ivories.
A native of Brooklyn and later a resident of Burbank, California, Miller was born about nine months shy of Sinatra in February of 1915. A well-versed, self-taught musician, Miller began professionally at the age of 16 and worked his way up the ranks in his early days, finding work with the big bands of Charlie Barnet, Tommy Dorsey, and Benny Goodman, as well as ensemble work with famed vibraphonist Red Norvo before fate led Miller to jobs in the burgeoning glitter of Las Vegas, where he would cross paths with Sinatra while working at the Desert Inn in 1951. Although they had first met ten years prior, it was the first time that Sinatra would call on Miller professionally. Impressed with his style, Sinatra hired Miller on a temporary basis to accompany him during musical sequences on his current CBS television series.
In terms of a career, it was the ideal opportunity. Sinatra was nearing the end of his time with Columbia Records, in the midst of what many Sinatra fans recognize as his downturn period at the beginning of the 1950s. Soon joining him as accompanist beyond the television series, Miller was a close witness to Sinatra in the dog days of his existence, playing second rate venues to sparse audiences and little notice. On the horizon, however, was Sinatra's game-changing role as Private Maggio in the film version of the book "From Here To Eternity," as well as his (unremarkable at the time) signing with the Hollywood-based Capitol Records, moves that would spiral Sinatra to super-stardom and sucess for the remainder of his life. Miller, ever present at the piano, was along for the ride.
Miller would be present at nearly every important Sinatra benchmark for the remainder of the singer's life, always introduced at one time or another on stage as "Suntan" or "Suntan Charlie," a joke of a nickname branded by Frank in reference to Miller's perpetual pale white skin tone. Together, Frank and Bill would coast through the landmark albums at Capitol, the successful concert appearances in Las Vegas and across the world, to the founding of Reprise Records and Miller's eventual appointment as musical director by the midst of the next decade. In 1960, following a well received performance of Sinatra with Miller's former boss Red Norvo with Norvo's quintet in Australia, Miller helped form (at the singer's insistence) a small sextet for Sinatra's appearances at the 500 Club in Atlantic City that July. Led by Miller, the sextet would later accompany Sinatra on his charitable 1962 World Tour to great acclaim.
Although he was reportedly somewhat uncomfortable with the position, Miller would later lead various orchestras for Sinatra throughout the remainder of his pre-retirement period as well as following his "comeback" in 1973, including during Sinatra's residence at Caesars' Palace not to mention the 1974 "Main Event" tour that reintroduced the singer to the concertgoing public. With Sinatra recording sparsely in the years following his return to singing, Miller would wave the orchestral baton until Sinatra suddenly dismissed Miller from the entourage under vague circumstances in 1978.
Newcomer Vincent Falcone (and later Joe Parnello) would take over musical direction in the ten years to follow, with various pianists taking seat behind the ivories, including Bernie Leighton, Lou Levy, Ray Cohen, Mike Renzi, and (pulling double-duty) Falcone himself, before Miller rejoined the ensemble in 1985, once again as pianist. With the direction of Falcone and Parnello giving away to the entrance of Frank Sinatra JR. as conductor in 1988, Miller would remain with the Chairman at the piano until Sinatra's final 1994 concerts in Japan, not to mention his last public performance at the occasion of Sinatra's annual celebrity golf tournament in 1995.
With Sinatra's passing in 1998, his partnership with Miller seemed to come full circle on the day of his funeral. With the casket of the Chairman being led into church in Hollywood, Miller played gracefully from a piano nearby, bringing warm feelings to the Sinatra family and assembled mourners with the melody of "One For My Baby," with that same unique barroom sound he and Sinatra had created some forty years prior. It was a proper close to a relationship that, while sometimes turbulent due to Sinatra's unpredictable temperaments, had yielded much fruit over its course.
The following few years would see Miller entering retirement, before the beckoning of playing on the road would tempt him once more, this time working with Sinatra's son Frank, JR. as pianist for the musical act the younger Sinatra had crafted in tribute to his father. Miller's eventual passing would come whilst doing what he did best. While performing along with Sinatra, JR. on a tour of Canadian theatres, Miller fell and broke his hip. Admitted to the hospital, he would suffer a sudden heart attack. Although bypass surgery would be performed in an attempt to save his life, Miller would eventually succumb to the effects of his condition, dying on July 16, 2006, leaving behind one daughter. After a horrific landslide destroyed his home and claimed the life of his wife in 1969, Miller would never remarry.
Fittingly, his final moments captured on record were Sinatra-related. Miller participated in two special recording projects, first in 2004. With the release of a new compilation of Sinatra, SR. Christmas music imminent, Sinatra, JR. convened an orchestra in studio to record a new arrangement of "Silent Night," on which a previously recorded 1991 vocal from the elder Sinatra would be isolated and layered on top of the new arrangement, with Miller playing piano. Later, in 2005, Miller worked at the keys once again on several arrangements for the recording of Frank, JR's new album "That Face." Released the following year, the album would serve as his final credit to music.
Unlike most musicians deep into the September of their years, Bill Miller's unique talents were on call for right up to the day he left the world. His contribution to the legacy that is Sinatra is immense, and undeniable.
Rest in peace, Suntan.
Until next time, Sinatra lovers!
Jerry Pearce is an amateur singer in the vein of Frank Sinatra, Perry Como, and Dick Haymes and has released two discs of standards music, Crossroads in 2010, and One Summer Night in 2016. Samples of his music can be heard on his YouTube Channel. To purchase his CDs use the form box below.
Comments or questions are welcome.