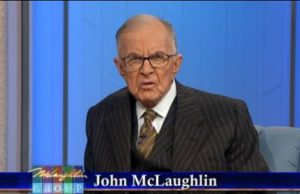 By "Bad" Brad Berkwitt
Sad news to report. Longtime talk show host of The McLaughlin Group" John McLaughlin has died at the age of 89. McLaughlin died Tuesday morning, according to an announcement on the Facebook page of "The McLaughlin Group" series. No cause of death was mentioned, but an ailing McLaughlin had missed the taping for this past weekend's show for the first time in the series' 34 years.
He was an honest guy who took no crap. Pioneers like him are few and far between today and he will be missed.
NewzBreaker extends our condolences to the McLaughlin Family in their time of grief.
Comments or questions are welcome.