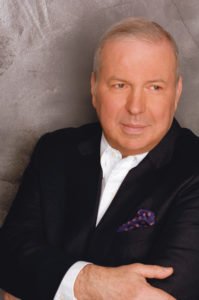 By Jerry Pearce
Hat in hand, I strolled into the Bergen County Performing Arts Center on the brisk Friday evening of November 13th, 2015, racked with anticipation. After picking up my ticket at the will call window, an older woman led me to my seat nearly at the foot of the stage: row three, seat one. As we walked down the left aisle of the cavernous auditorium, the stage already cast in the indigo of a warm blue lighting, she looked back briefly with a smile and said "you looked excited to be here."
Indeed, I was excited. The Sinatra Centennial Celebration Concert had arrived in the Garden State, hosted by the Chairman of the Board's equally talented son, Frank Sinatra, JR. It had been more than seven years since I last saw FSJ live in concert, and from accounts I received from fellow Sinatra fans who saw the program in the weeks prior, I was in for one hell of a show.
This concert was a multimedia presentation unlike any I had ever seen, and the production value left me quite in awe. Separated into two distinct acts and narrated by FSJ himself, the concert traced the history of the elder Sinatra in both story and music, complimented by the live twenty-plus piece orchestra (including several of Junior's regular sidemen, including conductor Terry Woodson, as well as an appearance by noted reeds player "Blue Lou" Marini). Following the proverbial "Theme from New York, New York," I left the Bergen PAC feeling high as a kite. Sinatra's son had, no doubt, created a perfect tribute to his father during what was the eve of the celebration of his one hundredth birthday.
A few months following the concert, I awoke on a morning in March to the tragic news of FSJ's death while on tour with his tribute show. Found unresponsive in his hotel bedroom in Daytona Beach, Florida, Sinatra JR. had passed away in his sleep from cardiac arrest. He was 72.
Amidst the fond memories and condolences being sent across the musical world in response to the unexpected loss, some Sinatra fans were a bit disturbed by the fact that many of the major media articles reporting the passing had a tendency to focus on the less savory aspects of the life of FSJ, including his notorious kidnapping by three men in 1963, as well as the turbulent relationship between Sinatra JR. and Sinatra SR. during their years working together in concert, JR. as his father's musical director and conductor. There was also the almost constant mention of FSJ being cursed trying to maintain a music career while living under the name of one of the most famous entertainers of our time.
Admittedly, the relationship between father and son has been portrayed as a bit complex. While there has been talk of a lack of love in their relationship over the years, FSJ exuded, at least in the times I had seen him in performance, a profound respect. It was respect for his father, and the musical legacy of songs and musical personnel that were encapsulated, and it didn't take many words from the man to identify with this.
The gossip takes precedence to such a degree that we tend to forget that FSJ was a true consummate musician with an impressive, albeit brief, body of recorded work, a series of albums that date back to the early 1960s when he was beginning his musical career. At the time, FSJ was performing a tribute to his father's early days with a reconstituted version of the Tommy Dorsey Orchestra (replacing outgoing vocalist Billy Raymond). In homage, Sinatra JR. would perform freshly orchestrated versions of his father's early successful hits, among them "All Or Nothing At All," "I'll Never Smile Again, "There Are Such Things," and others, to approving audiences. The group was led by virtuous sideman and orchestral leader Sam Donahue. In many interviews, FSJ would credit Donahue as a guiding influence in his early days as a performer.
It would lead to the creation of his first album, "Young Love For Sale," in 1965. Recorded for his father's Reprise label, the album features a swinging FSJ carousing through a sweet program of twelve songs, some accompanied by the vocal support of the Pied Pipers and featuring the Tommy Dorsey band members as his musical accompaniment, here credited as the "Sam Donahue Orchestra." Reviewers greeted the album favorably at the time of its release, including a brief but respectful nod from Billboard Magazine, the small blurb announcing that the album could potentially "put another Sinatra on the charts."
Although it would be another six years before new FSJ product arrived on the market, "Spice" was a treat of an album when released by Daybreak Records in 1971. Featuring Sinatra JR's first collaboration with his friend, oft-used Sinatra SR. arranger Nelson Riddle, the album divides nicely between FSJ-reworked versions of modern pop hits and big band standards he had grown to love. Featuring Riddle's full orchestra as well as some numbers backed by an octet led by veteran Larry O'Brien (FSJ used this group as his traveling band for gigs on the road), the finest moment of the album comes in form of the title tune "Spice," written and performed exceptionally by FSJ and featuring the Riddle orchestra at full tilt (Riddle's son Christopher provides the memorable trombone solo).
Sinatra SR. himself dropped in on one of the recording sessions during a series of playbacks. Upon hearing his son sing the title song, he asked aloud who wrote it. FSJ looked over towards his father and told him that he was the author. Amid a few expletive words, the elder Sinatra didn't believe his son until the sheet music was held in front of him, leaving him in awe of his kin.
The "His Way" album soon followed, his second collaboration with Riddle, featuring much of the same kind of musical programming (current pop hits mixed with standards), and can be seen as a worthy sequel to "Spice."
Attempting to branch off in other directions, FSJ worked on a country themed album in the late 1970s (It's Alright), but it wouldn't be until the early 1980s that he returned to the studio to cut some new big band work. Los Angeles orchestra leader Pat Longo was assembling his band in the studio to create an album with arrangements written in tribute to the style of the legendary arranger Billy May. The album's program harkened back to the older days of big band, where instrumentals and vocal charts were interspersed with each other.
In addition to a few arrangements written by May himself (the vocal charts), it also features the work of arrangements Bill Armstrong, Sammy Nestico, and Gordon Brisker. FSJ is featured as the singer on the vocal charts, and they are among the finest you'll ever hear of the singer on record. "Fortune in Dreams," "Great Times," the FSJ-penned "Missy," as well as a joyfully bouncing "Midnight Sun," are among the great tunes on this album. The cover features a smiling FSJ and Longo standing on each shoulder of a seated May," all three wearing shirts of patriotic colors each emblazoned with an American flag and the phrase "Billy May for President," the album's title. It was released on Town Hall Records in 1983, and remains in print to this day.
As the 1980s endured, FSJ found success with a new lounge act at the Four Queens Hotel in Las Vegas, earning great reviews and helping reintroduce and sustain standards in a rapidly changing entertainment industry. He would be featured on guest vocals with the group Was (Not Was) in their recording of a pseudo-lounge song (the delightful "Wedding Vows In Vegas") as well as a one song stint with the Louise Baranger Jazz Band on her album "Trumpeter's Prayer," with a great arrangement of the song "I Only Want Some." But as the decade changed again, with FSJ having taken the reins as his father's musical director and conductor, the listening public had yet to see a new album on the market with the name Frank Sinatra JR. on it. That is, until 1996.
With Sinatra SR. finally retired and off the road for good, and despite any animosity that may have existed during their time working together, FSJ set out to the studio to create a labor of love that celebrated the legend of his father. The audio predecessor to the type of show FSJ would put on for his father's centennial, "As I Remember It," released by Angel Records in 1996, is a valiant effort.
Featuring a nearly fifty-piece orchestra directed by Terry Woodson, FSJ tells the story of his father's career with biographical narration as well as truncated and full renditions of many defining Sinatra songs. Beginning with "Night and Day," through several of his great hits with Nelson Riddle, to his work with Billy May and Don Costa, some recollection of his time with Count Basie in the 60s, to his work with Antonio Carlos Jobim, culminating in a final narration that includes the Sinatra theme song "Put Your Dreams Away," this album is nothing less than extraordinary. The album has since gone out of print, and copies fetch top dollar on auction sites and other retailers.
One would think that this album would gain some honorable mention after the passing of FSJ. To this author's knowledge, it didn't. One could only hope, however, that before the untimely passing of Frank Sinatra in 1998, that the man himself was able to hear the wonderful show his son put on in studio, all in tribute to him.
Nearly ten years after that landmark album, FSJ was back to work again, this time at Capitol Studios, recording numbers with full orchestra for a new album, "That Face!." The musical program included some arrangements originally written but never recorded by Sinatra SR., and FSJ does a stellar job with vocals on a varying array of standards, including "What A Difference A Day Makes," "Softly As In A Morning Sunrise," a beautiful big band version of Barry Manilow's "I Was A Fool To Let You Go," a newly recorded version of 1971's "Spice" with new introduction, as well as the memorable closing number, "The People That You Never Get To Love."
While the album doesn't approach the landmark scope of "As I Remember It," the material is top-notch, the production value is equal, and the entire product stands as ample evidence that the considerable vocal talents of FSJ had not only sustained themselves in the more then forty years since his debut, but had even improved.
Nine years later, when I saw him in what would be one of his final concerts, that quality hadn't diminished even by a tad. In a world where standards are consistently fading out of the public eye, FSJ was there to carry the torch. If some of the behind the scenes stories that have circulated about bad times with Sinatra SR. are to be believed, perhaps he carried that torch longer then he needed to. But nonetheless, the perseverance to do so left those fans impressed with the music of FSJ with a decade-spanning collection of dynamite recordings that will stand the test of time.
Rest in peace, Frankie.
Until next time, Sinatra lovers!
Jerry Pearce is an amateur singer in the vein of Frank Sinatra, Perry Como, and Dick Haymes and has released two discs of standards music, Crossroads in 2010, and One Summer Night in 2016. Samples of his music can be heard on his YouTube Channel. To purchase his CDs use the form box below.
[si-contact-form form='3′]