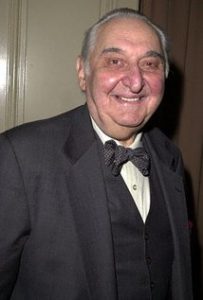 By Kristi O'Toole

Fyvush Finkel, whose homespun moniker and putty face were comic statements all their own that helped him become a mainstay of what remained of Yiddish entertainment and who later crossed over into the television mainstream as the cantankerous lawyer from the 1990's series 'Picket Fences' died on Sunday at his home in Manhattan. He was 93.
His death was confirmed by his son, Ian who said Mr. Finkel had been having heart problems for months.
In 1997 at the age of 75 Mr. Finkel had a star with his name on it added to the Yiddish Theater Walk of Fame. At that time he said the star had added 25 years to his life.
NewzBreaker extends our condolences to the Finkel family in their time of grief.
When Kristi isn't writing for NewzBreaker, she writes supernatural suspense novels having three currently published. If you would like to check out any of her books they can be found online and at other major retailers like Books a Million and Amazon. Never one to rest, she also paints/designs shoes and items for the home. Check out her eBay store, Watered Down Vodka and her FB page.
Comments or questions are welcome.