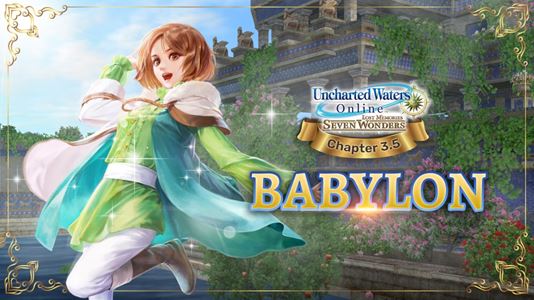 In its 5 years under Papaya Play's stewardship, Uncharted Waters Online (UWO) has continued to adapt and improve, always with its global audience in mind. February 22nd marks the release of the newest Chapter of UWO's Seven Wonders saga – Chapter 3.5: BABYLON.
UWO is a historical sailing MMO, set during the exciting Age of Discovery of the 15th to 17th Centuries, when the far corners of the globe remained unexplored. As the Captain of your own ship, you're free to make your mark on the world and propel yourself to fame and fortune. Earn a living through trading, exploring, racing, or battling pirates (or through turning to piracy yourself) all around the world. The latest refinements and additions to these diverse options are described below.
The BABYLON update adds another Legacy Theme to discover the Human Heritage, making it 10 themes in total. New ships, quests, towns, and recipes have also been added.
The server-wide Epic Pirate Feud has also been revamped with a longer battle time and some changes in Pirate Feud Equipment effects.
New Legacy Theme
As the Chapter title suggests, this update has you seek the Great Human Heritage goal of the legendary city of Babylon, from Ancient Mesopotamia. Seek for clues around the world with the help of the young boy Franz, and visit special Lands to decode the mystery of this ancient land.
Strongest Buildable Battleship and Cannon Revamp
Two new ships have been added, including the strongest buildable battleship ever, the Melville.
Some of the previously introduced craftable cannons have also improved their performance.
…And more!
Advanced Missions in the Coliseum: Now advanced missions with more powerful NPCs and special prizes are available.
New cities: Yambu, Visakhapatnam, and Manama were added in for more cities to explore.
New Discovery Quests and Discoveries: Continue forth with new Discovery Quests and make new discoveries.
More Sophia Awakening Recipes: More items are now targets of the Sophia Awakening Transmutation. Use Sophia to produce extraordinary items.
Epic Pirate Feud Update: The battle now lasts for 2 hours and features new rewards, changes to attacking Lead Ships, and the effects of Equipment.