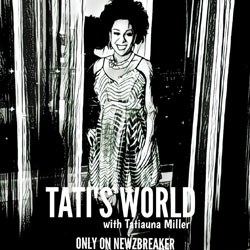 By Tatiauna Miller
First dates can range all over the place from exciting, to awkward, to horrible. I decided to share a few of mine because I thought they were worth a good laugh.
You know what's awkward on a first date? Being ambushed by your date's parents. Like hold up why am I meeting your parents right now? I didn't sign up for this! Now a first date turns into an interview and they're asking all types of questions about your life. I haven't decided if I even like you yet and I'm meeting the "rents"? No thanks!
One of the strangest first dates I've been on was with someone I'd met at a club. We chatted on the phone a few times and he seemed pretty normal. We decided to meet at a restaurant and get to know each other more over dinner. During dinner we talked about our lives and jobs, you know the normal first date stuff. Then he tells me he has an R&B album and he wanted to take me back to his car to listen it.
I love music, but I have no patience to listen to some garbage, for his sake I hoped it was good. I hoped in vain, it was terrible. That was some 1990s fake ass Jodeci, screaming like he was tortured, talking in the background, recorded it in his homeboy's bathroom, mess! This guy swore he could "sang" and yes he said "sang" like he was Aretha Franklin or something. I wanted to jump out of the car the first 30 seconds of the album, it was pure torture! After he kills my ears for 10 minutes he decides to tell me the history behind this musical project. This guy tells me he had to put the album on hold for 8 years, because he went to jail for attempted murder of his ex wife!
Ehhhhhhh excuse me?!? Forget the album bullshit, that's the first thing you tell someone! Don't you think I may want to know you tried to kill your ex wife? Then he had to nerve to say he was innocent, boy please! I don't even remember saying goodbye, I just remember racing out of the parking lot. That was a first and last date for that dude as well.
One the best first dates I had was very unusual, this guy took me to his job. He worked for the Metro as a train mechanic. I got to get on a new train and play with the controls, open and close the train doors, talk on the PA system. It was great! I remember not wanting the date to be over just because I had so much fun playing on the train. Even though the first date was fun, we never went on another one. This guy's job was more interesting than him.
Recently I went on a date with a person, I wasn't really interested in but we decided to go as friends. We planned it to be super casual and low budget because it was like "friend date". First thing that went wrong was his breath was STANK! I mean dead ass stank. At dinner, I was glad he ordered food with onions so it could mask that stench seeping from his face. Just so you know the onions didn't help at all, it was shit and onions smell mixed together. Naturally, I did not want to have any conversation with him but of course we had to or it would've been awkward as hell.
At the beginning of the date, I head to the restroom to get some fresh air and wash my nostrils out. Prior to leaving, I give him my food order just in case the waitress comes. I remember ordering a chicken salad sandwich. When the waitress delivers my food, she gives me a grilled cheese sandwich. Which I would never order at a restaurant because it's a waste of money, anyway I look at him and I say "what is this?" He looks all confused and says "your food". Nah, bruh this ain't my food! I'm pissed as hell because I had to sit here for 20 min smelling his hot ass breath and counting down the minutes till this date is over and he ordered the wrong damn food! Damn you only had one job to do! After I switch the food, I try to enjoy my meal and regain my positive attitude. I'm feeling somewhat better until this dude tells me "You better eat all that food!" Excuse me? Who the hell do you think you're talking to? I was very proud that I didn't strangle him. After that comment I was ready to go home. As we walk out of the restaurant he immediately speeds ahead of me, like he has an emergency.
I can't stand when a man walks in front of me, especially when we are on a date. As he walks faster, I start to walk slower because I'm am a jerk. So we get to my car and he says "Oh, I'm so glad we are at your car, I have to pee!" You got to do what? I don't know why he'd rather pee in a busy and bright ass parking garage, than go to the restroom in the restaurant we just walked out of 2 minutes ago. So his nasty ass decided to pee right next to my car door, which is in view of my side mirror. Like I mentioned earlier, I'm a jerk. So what did my ass do? Roll down the window and yell, "I see your dick!" He screamed like a wet cat and turns away. Afterwards he jumps in the car and says "Now how about my kiss?" No, how about you get this hand sanitizer, nasty ass! Anyway, I dropped his ass off and haven't spoken to him since.
I hope you enjoyed my first date stories.
Thanks for giving me your time! Have a beautiful day, laugh more and live more
Comments or questions are welcome.