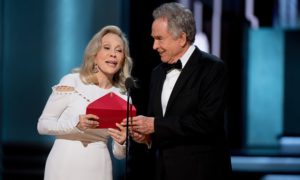 By "Bad" Brad Berkwitt
Photograph credit Sipa USA/Rex/Shutterstock
At the 90th Academy Awards this Sunday, Oscar winners Warren Beatty and Faye Dunaway are getting a second chance when they will present the Oscar for best picture again, one year after they infamously announced La La Land, instead of the actual winner, Moonlight.
Last year Beatty and Dunaway presented the night's top honor to mark the 50th anniversary of Bonnie and Clyde. When Beatty hesitated to announce the winner, visibly confused by the contents on the card, Dunaway read off La La Land as best picture. The mistake was attributed to the accountants at PricewaterhouseCoopers, who mixed up the envelope for best actress, won by La La Land's Emma Stone, with that of best picture.
Come on folks, this was not Dunaway's or Beatty's fault and if I had to wager, there will be some funny antics from them on stage come Sunday night!
[si-contact-form form='2′]