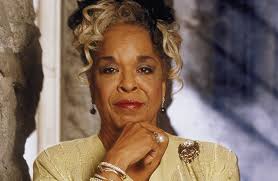 By "Bad" Brad Berkwitt
Beloved singer and actress Della Reese passed away last evening at the of 86. Her role as Tess, on Touched By Angel, endeared her to millions long after her singing career had already made her a huge star.
She leaves behind children James, Franklin and Dominique, as well as husband Franklin Lett. She was predeceased by daughter Deloreese.
"On behalf of her husband, Franklin Lett, and all her friends and family, I share with you the news that our beloved Della Reese has passed away peacefully at her California home last evening surrounded by love. She was an incredible wife, mother, grandmother, friend, and pastor, as well as an award-winning actress and singer. Through her life and work she touched and inspired the lives of millions of people," her costar Roma Downey confirmed to PEOPLE in an exclusive statement.
"She was a mother to me and I had the privilege of working with her side by side for so many years on Touched By an Angel. I know heaven has a brand new angel this day. Della Reese will be forever in our hearts. Rest in peace, sweet angel. We love you."
NewzBreaker extends our condolences to the Reese Family in their time of grief.
[si-contact-form form='2′]