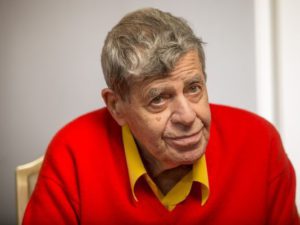 By "Bad" Brad Berkwitt
They say they die in 3's and it appears once again, there is merit to that old folklore with Dick Gregory, Sonny Landham and now Jerry Lewis. He was a comedian, director, host for many years of the Muscular Dystrophy Labor Day Telethon and half of the highly successful Martin and Lewis act, which was the biggest in the country for ten years.  Lewis died in Las Vegas at the age of 91.
The Las Vegas Review-Journal columnist John Katsilometes reported that he died at his home at 9:15 a.m. and his agent confirmed the news.
NewzBreaker extends our condolences to the Lewis Family in their time of grief.
[si-contact-form form='2′]