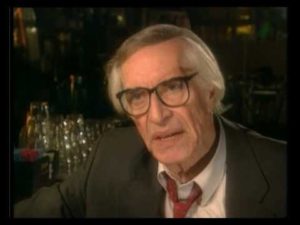 After the passing of the great Martin Landau at the age of 89 in July this year, many film sites have turned to discussing the actor's finest moments on screen. There is certainly an abundance to choose from, including his stunning performances in Ed Wood for which he won the Oscar for Best Actor in a Supporting Role, and Crimes and Misdemeanours, for which he earned an Academy Award nomination. For some filmgoers, especially poker fans, Landau's greatest ever turn was in Rounders, when he played Professor Abe Petrovsky.
Rounders followed the journey of a gifted poker player and law student played by Matt Damon, who dreamed of playing in the ultimate poker event, the World Series of Poker. The ambition of Damon's character Mike McDermott wasn't too dissimilar to many a young poker player today. Take Scott Blumstein, for instance. The 25-year-old was an accounting major before deciding to take up Texas Hold'em full time. He plied his trade online first, taking part in tournaments at sites like 888poker, where there are over 10 million users. Then recently the American finally entered the WSOP and won first place.
It would be interesting to know if Blumstein was following the advice of his university professor in deciding to give up accounting and play the cards full time. In Rounders, McDermott has an intriguing chat with Petrovsky who was his law professor, which many think is one of the most powerful conversations in film history. Landau was absolutely stunning in this scene, as he tells Damon's character how he should chase his dreams, regardless of the expectations that other people have of him. He described how "destiny chooses us." It's hard to think of a better actor to have played this pivotal adviser to the protagonist, and although it was brief, some think that this was one of Landau's greatest roles.
There has been some talk of making a Rounders 2, and now it seems more appropriate than ever, as it could be used as a tribute to the actor whose career spanned almost sixty years. Damon has previously explained in interviews how he thinks it would be cool to make a sequel to the cult movie and portray just how far the game has come in the twenty years since the first installment. While players like Blumstein now often prefer to train online in the multitude of poker tournaments available at any given time, in Rounders, McDermott had to turn up to a number of seedy games in dingy places to practice. Rounders 2 could show how McDermott has to adapt his game to the modern setting.
Landau's last ever film was The Last Poker Game, which was released earlier this year. It surprisingly had very little to do with the card game, and centred around two men in a retirement home both trying to convince a nurse that they are her long-lost father. There is no doubt that Landau's incredible talents will be missed in the world of film. He was one of the greats.