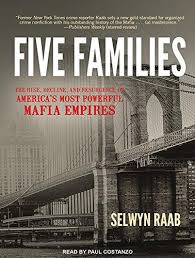 By Marla Eggar
The basis of my understanding about mob life originated with Selwyn Raab. Growing up I originally like watching documentaries where he gave commentary to particular mob events or life. When I read his book Five Families: The Rise, Decline and Resurgence of Americas Most Powerful Mafia Families I have to admit I was pretty impressed. The way Raab recounted the history of the Gambino, Genovese, Lucchese, Colombo and Bonanno family in such massive detail the reader is given a full understanding of what the mob truly represents… from Raab's point of view at least. The positives about this book is its knowledge. It's extremely informative! Everything you will ever want to know about the mob from its roots back in Sicily to its takeover in New York is included. Raab gives you the complete back story of all the headlines and all the documentaries about the American mob.
It's almost like Raab is an encyclopedic on all things mob related. Nobody who reads this book will be under any illusions about the real life godfathers. Not only does Raab go in hard on inept mobsters, but he also broadcasts the incompetence, venality and downright stupidity of some law enforcement people involved in the downfall of the families. Raab explains how the mob lost tremendous power in the 1980s and '90s due to advances in law enforcement which lead to a lot of plea-bargaining. He brings everything full circle by explaining how 9/11 has changed the F.B.I. focus is today which is leaving the mob some room to bounce back.
On the flip side of the coin, the downfall is how one dimensional the book is. It has potential and intriguing information, but the delivery can be somewhat boring! At times, I felt like it read as if no one put any time and effort into making this an enjoyable read! Raab jumbles around from one decade to the next and then back, sometimes repeating the same story over and over again. It's almost impossible to follow along at times. Also, there's no character arc and no analysis about these men. Saab portrays the modern-day mob guy as unimaginative and as Godfather groupies, which I don't agree with and sometimes the book reads more along the lines of a narrative rather than a history book. However, I liked how Raab explained the intricacies of the RICO Act and other attempts by law enforcement to bring down the mob. Although I was hoping for an in-depth history of the five New York mob families with an emphasis on internal mob politics and gangsters the overall makeup of the book was good!
You can purchase the book by clicking here.
[si-contact-form form='3′]