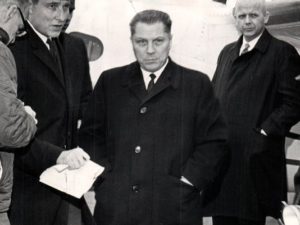 By Larry Henry
Every July, the same two mob-related questions pop up:
Who killed Jimmy Hoffa?
Where is he buried?
Though there is plenty of speculation, no one has uncovered the definitive answer to either question.
A lot of people you come across on a day-to-day basis know the basics of the Hoffa saga, that he was a corrupt, mobbed-up ex-Teamsters head who disappeared in the summer of 1975, presumably killed by underworld figures.
After serving time in prison, and already into his early 60s, Hoffa was trying to regain power in the union when he vanished.
For 40-plus years the national running joke has been that Hoffa's remains were buried in Giants Stadium in New Jersey just west of New York City.
From time to time, you'll still hear late-night comedians joke about that, even though the stadium was demolished seven years ago, and nothing ever turned up.
The mysterious lump at the 10-yard line?
Nothing.
So with the July 30 anniversary of Hoffa's unresolved disappearance approaching, and wanting to see existing buildings that have a meaningful (and documented) association with Hoffa, I recently had reason to be in Tennessee, and while there shot video on my iPhone of the courthouses in Nashville and Chattanooga where federal prosecutors seriously dented Hoffa's armor of invincibility.
The federal courthouse in Nashville is where the federal Get Hoffa Squad, led by then-Attorney General Bobby Kennedy, tried to stick a misdemeanor conviction on him in 1962 in what is known as the Test Fleet case. It was another in Bobby Kennedy's continued effort, under his brother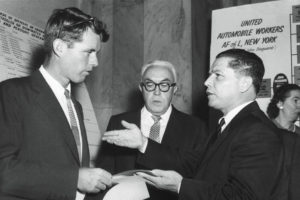 the U.S. president, to bring Hoffa down. (Click to see the video on my YouTube channel of the Nashville courthouse .)
That trial ended in a hung jury, but when allegations surfaced that Hoffa and his associates attempted to bribe jurors in Nashville, Hoffa was charged with felony jury tampering and tried at the federal courthouse in Chattanooga.
Too much hoopla over the Test Fleet trial in Nashville led to the decision that a court venue a couple of hours to the southeast in Chattanooga would be more suitable for the next go-round.
The courthouse in Chattanooga is a short walking distance from the Hotel Patten, where Hoffa and his team stayed while the jury-tampering trial was underway in early 1964. (Click to see my video of the hotel and courthouse in Chattanooga.)
My video of the site in Chattanooga shows the walk Hoffa took along the sidewalk from the hotel (later renamed Patten Towers and converted into housing for the elderly and disabled) to the courthouse.
In the end, Hoffa, then 51 years old, was convicted in Chattanooga, finally resulting in a victory for Bobby Kennedy, and was convicted again later that year in Chicago, in a different felony case regarding pension fund fraud.
When it comes to Hoffa, surface knowledge might be all some people want. Others are looking for more.
Those in the latter camp like me who enjoy a deeper look at Hoffa's rise and fall
have several reliable books to turn to.
One is investigative journalist James Neff's "Vendetta: Bobby Kennedy Versus Jimmy Hoffa." It delves into the Test Fleet case and trials in Nashville and Chattanooga.
Another valuable resource is "The Hoffa Wars," an authoritative book by crime author and Hoffa expert Dan E. Moldea.
In most instances, Neff and Moldea are who I go to as primary sources in researching any angle on the Hoffa story.
On his website moldea.com, the Washington, D.C.-based Moldea has a shorter take on the Hoffa killing and disappearance that stands on its own as a well-researched, believable explanation.
This version is helpful for those not particularly interested in reading an entire book about Hoffa but instead just want a digestible chunk.
Needless to say, there have been a lot of other books and articles written about Hoffa.
One interesting book is "I Heard You Paint Houses: Frank 'The Irishman' Sheeran And Closing the Case on Jimmy Hoffa" by Charles Brandt, a lawyer, novelist and former chief deputy attorney general in Delaware.
The Brandt book includes extensive direct quotes from Teamsters hitman Sheeran, who claims to have killed a number of shady characters, including his friend Hoffa, on orders from the mob.
Sheeran, now deceased, says he shot Hoffa twice in the back of the head near the right ear at a private residence in Michigan. The book, first published in 2004, was reissued last year with updated material.
According to news stories posted online, film director Martin Scorsese is working on a movie based on the Brandt book, starring Robert De Niro.
On his website, Moldea disputes Sheeran's claim that he killed Hoffa (painting houses being code for the blood that spatters on a wall during a hit) and offers his own thoughts on who killed Hoffa and where the body ended up. Moldea also includes a photograph of himself and another respected mob writer, Gus Russo, in a "contentious sitdown" with De Niro regarding the movie.
Clearly opinions differ.
What many agree upon is that Hoffa was supposed to have met that fateful July afternoon around 2 o'clock with Mafia higher-ups at a restaurant in suburban Detroit, his longtime national power base.
The purpose of the meeting apparently was to patch up disagreements he had with New Jersey mobster Tony "Tony Pro" Provenzano.
The meeting never took place. Hoffa showed up at the parking lot, but what happened after that is subject to speculation.
The 62-year-old Hoffa, a vengeful fireplug of a man who stood just under 5-foot-6 and sometimes referred to himself by his last name, disappeared from outside that restaurant, then called the Machus Red Fox, never to be heard from again.
Some think the mob snuffed him out because the big-mouthed Hoffa, striving to regain control of the Teamsters after a prison sentence in the Chattanooga and Chicago felony trials, was threatening to blab about the union's deep connections to the Mafia.
Again, there is disagreement regarding motives and details, and theories vary.
While there are arguments over who killed Hoffa and what happened to his body, one thing most agree upon is that his remains were never buried at the old Giants Stadium in New Jersey, despite urban legend.
Regardless, fans going to Giants football games no longer can speculate whether they are attending a sporting event at Hoffa's gravesite because a new stadium has gone up in East Rutherford, New Jersey, which, by the way, prompts a trivia question:
How many NFL teams play their home games in New York?
Answer: One, the Buffalo Bills.
The New York Jets and New York Giants play at MetLife Stadium across the state line in New Jersey near where Giants Stadium once stood, presumably without Jimmy Hoffa's remains.
Larry Henry's YouTube channel includes videos he shot of mob sites in Las Vegas, the apartment building in Santa Monica, California, where Whitey Bulger was arrested, and the remote Arkansas airport where Barry Seal transported drugs into the U.S for the Medellin Cartel. Subscribe HERE.