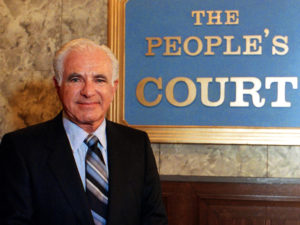 By Kristi O'Toole
The final verdict came in for Judge Joseph Wapner. He died Sunday morning at his home in California of natural causes. He was 97
The famed judge taped more than 2,000 episodes of "The People's Court" during his 12-year tenure on the program, inspiring decades of similar courtroom shows, including "Judge Judy" and "Judge Joe Brown."
Prior to his television series, Wapner graduated with both his undergraduate degree in 1941 and his law degree in 1948 from the University of Southern California, and served in the US Army as a Lieutenant. He was awarded the Purple Heart and Bronze Star for his service in World War II.
NewzBreaker extend our condolences to the Wapner Family in their time of grief.
When Kristi isn't writing for NewzBreaker, she writes supernatural suspense novels having three currently published. If you would like to check out any of her books they can be found online and at other major retailers like Books a Million and Amazon. Never one to rest, she also paints/designs shoes and items for the home. Check out her eBay store, Watered Down Vodka and her FB page.
Comments or questions are welcome.