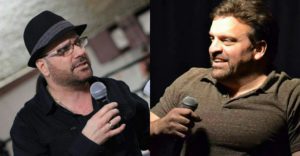 "I admire Rodney Dangerfield because of his hook (no respect), the greatest hook in the history of comedy and for his economy of expression."—Eric Tartaglione
If you grew up in New York and you had an ounce of Italian ethnicity in your blood, you would hear Italians use an expression that goes "That Guy"! Well, comedian Eric Tartaglione is "That Guy", but in a positive way! He encompasses laughter, vision and lots of boxing knowledge. OK so what if the first two don't have anything to do with the third thing! It's my interview with Eric and being a boxing guy, that has us bonding even if the first two didn't exist. But they do…
Tartaglione is a funny cat that if you have not seen his act, you need to go and check him out. Let him know you are in the Witness Protection Program (WPP) in Idaho, with your last name being Wilson or a member of the Hair Club for Men. He will get the joke!
Ladies and gentlemen, NewzBreaker welcomes Eric Tartaglione…
I was born in Brooklyn NY but grew up in two towns on Long Island, Elmont and West Hempstead.
BB: As a child, did people think you were funny?
Yes, I was voted Class Clown. In 6th grade history class me and three other kids acted out a scene from history like a TV show. I would do a commercial in the middle, my first foray into stand up.
BB: Your biography says you were in the medical field before you broke into comedy. What did you do?
I was an XRay technologist. I wanted to learn a skill instead of being a waiter.
BB: You also have done stage work. What was that like?
I did theater on Long Island and Off Broadway in NYC for 15 years before I started comedy. It was a great training ground, along with stand up, for the shows I came to co-write and perform.
BB: How long have you been doing stand up?
16 years
BB: Do you recall the first time you got in front of a live audience? If so, how did it go?
The first time as an adult I hit the stage I was playing a character that came in from the audience, I was so nervous I missed my cue! We recovered though.
First time as a stand up it was graduation show for a class I took, Stand Up University on Long Island. I was much more nervous because there was no script! That was after 15 years of acting. Didn't help. Stand up comedy is a monster you are battling naked, it's just you.
BB: Who are some of the comedians you admire and what is about them that endears you to them?
I admire Rodney Dangerfield because of his hook (no respect), the greatest hook in the history of comedy and for his economy of expression. I admire Jerry Seinfeld for his cleverness and detailed writing. George Carlin and Dennis Miller for their social commentary. Richard Pryor and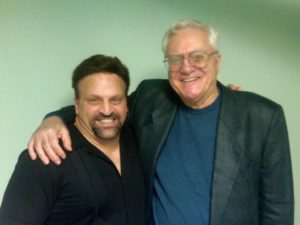 Bill Cosby for their story telling.
I admire Pat Cooper; he was the first comic I ever remember hearing from records in my family's homes. His delivery and energy are great. The only one in this group I actually met. Steven Wright also for his imagination, just to name a few.
BB: I'm a big Frank Sinatra fan. Any good stories about The Chairman Of The Board?
Being Italian American, I obviously heard him in my grandparents' house growing up. I remember my grandfather saying to me, "He doesn't have the best voice, but it's the way he puts the song across". A lesson on being your authentic self-onstage.
We both share a love for the sport of boxing… Let's jump into that now…
BB: How long have you been a fan of the sport of boxing?
I've been a fan since the first Ali-Frazier fight, March 8 1971.
Ray "Boom Boom" Mancini
BB: Who are your three favorite fighters in boxing today?
They are Gennady "GGG" Golovkin, Vasyl Lomachenko and Sergey Kovalev.
BB: What is the greatest fight you have ever seen and why?
Diego Corrales – Jose Luis Castillo. For the incredible action, heart displayed by both fighters and the amazing late fight rally by Corrales.
BB: If you could play matchmaker for one "Super Fight", who are you matching up and what do you think the outcome would be?
Rocky Marciano Vs Muhammad Ali. Al wins.
BB: Do you favor a mandatory retirement fund for all boxers and if so, how do you think it could be accomplished?
No I don't favor it. It's a free country. Couldn't get it done anyway.
BB: Favorite boxing movie?
Raging Bull
BB: Favorite non comedy movie?
Godfather 1 and 2. (3 doesn't count)
BB: Favorite comedy movie?
Animal House
BB: Favorite Actor?
Laurence Olivier
BB: Favorite Actress?
Meryl Streep
Tom Jones
BB: Favorite sound or noise?
The sound of a drum kit.
BB: Least favorite sound or noise?
The sound of my wife yelling at me.
BB: Favorite Food?
Macaroni (Sushi is a close second).
BB: If they did the life of Eric Taraglione, who plays you?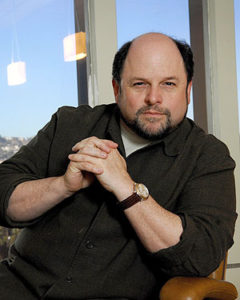 Jason Alexander
BB: What is one thing you can share with the readers that they may be surprised to hear?
I'm a Summa Cum Laude college graduate with two different degrees.
BB: If you could meet anyone from any time in history, who would it be and what would your first question be for them?
Jesus – How do you vibrate such perfection?
BB: Finally, what is the saying you live your life by if you have one?
"You create your own reality".
Check out Eric's official website at: http://etcomic.com/
[si-contact-form form='2′]