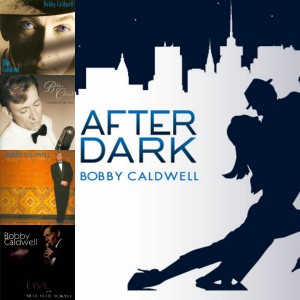 By Jerry Pearce
"It was never my intention to be a Sinatra impersonator. It was all about the songs." – Bobby Caldwell, 2014
During a recent discussion of Sinatra music, reference was made to a photograph from the 1994 Grammy Awards featuring Sinatra posing with singer Bob Dylan. This, of course, led to mention of Bob Dylan's newest album "Shadows in The Night," which, in celebration of the recent centennial, features Dylan covering a number of standards in his style in celebration of Sinatra.
Like any released work by an artist, there were a number of both boosters and detractors that came out of the woodwork, either recommending or criticizing the album. Admittedly, this author is not a fan of Bob Dylan, nor have I listened to the album yet, but in said conversation, I could only offer a singular opinion.
Nearly twenty years after his death, other artists are still found to be tipping their hat to the Chairman of the Board through both honorary songs or tribute albums, and if that isn't a sign of lasting impact, a firm example of artistic immortality, then I don't know what is.
It led me to start thinking about other artists of considerable fame and talent that too worked on musical projects that paid tribute to Sinatra, and when it comes to relative names bouncing to mind, the first will always be the great Bobby Caldwell.
Chances are, if you've tuned into your average light FM radio station (for our New York audience, you'll think of IHeartRadio and 106.7 WLTW), you've heard Bobby Caldwell sing. Born in New York in 1951, the prolific singer-songwriter scored big early in his career when his first self-titled album propelled to the top of the heap in 1978, spearheaded by the success of the single fronting the set, "What You Won't Do For Love," a pulsating pop smash that reached the top ten on multiple record charts.
Coming in at the near end of the disco era, Bobby's music during the first decade and a half of his career varied from light pop to soul to R&B, even skirting the line of rock. With a vocal register of significant octave range, Caldwell released seven albums between the late 1970s and 1995, one reaching Gold status, another Platinum.
As the decades turned, Caldwell could be found working more jazz into his musical program as well as his recorded output, beginning perhaps with the release of the 1991 single and album "Stuck On You." Soon enough, smooth jazz radio stations began to adopt Caldwell as the new man of the hour, which set him on course to an exciting new musical project.
That project was called "Blue Condition."
Drawn over the years to the music of the Great American Songbook, Caldwell reportedly took his cue from the success of Natalie Cole and her re-recording of the song "Unforgettable" and began work on an album with which he intended to re-introduce standards to the public as well as do his part to sustain the life of this genre of American music. Recorded live in July 1996 at Capitol Studios with both symphony orchestra and a 20-piece jazz band, "Blue Condition" is a qualified treat.
Arranged by Randy Waldman and the singer himself, Caldwell takes his cue from Frank and pays tribute to both him, Bobby Darin, and other vocalists of that era, swinging his way through a smattering of big band hits, including "Street of Dreams," "Beyond The Sea," "I Concentrate On You" (done in the familiar Bossa Nova style), as well as "I Get A Kick Out Of You." He also displayed his flair for the romantic ballad, most evident in his wistful rendition of "You Go To My Head," backed by a beautiful string arrangement to boot. Two original songs, the swinging "The Girl I Dream About," and the tender ballad "Tomorrow," echo Frank Sinatra during the Capitol era, rounding out a superb twelve-song program.
The next few years would find Caldwell attaching himself to standards full time, performing full concerts with either jazz band or symphony orchestra, including a televised A&E concert hosted by Lou Rawls. Boosters and detractors appeared on both sides, the positive commenting that it was nice that the tradition of standards see such exposure again, the negative commenting that Caldwell couldn't hold a candle to the artists he was paying tribute to.
Whatever the opinion, it was clear that Caldwell was more trying to keep a legacy of artistry alive rather than sound better than the artists that began said legacy, the first thing this author thought of when someone referenced Bob Dylan.
Caldwell was back at it in studio two years after "Blue Condition," recording new charts by arranger Ray Ellis for his second big band album, "Come Rain Or Come Shine." While this album features great up-tempo versions of the title song as well as "Old Devil Moon," not to mention a stirring "Indian Summer," Caldwell also pays tribute to Sinatra by performing three of the arrangements originally written for him by Nelson Riddle and Quincy Jones (I've Got You Under My Skin/I've Got The World On A String/The Best Is Yet To Come), with keys adjusted to suit Caldwell's higher range. Featuring a cover of Caldwell dressed in 1940s style white tuxedo, it stands at a worthy successor to the first title.
"The Consummate Caldwell" would follow a year later. A compilation of songs from the first two albums, this release also features six new songs, beginning with the Billy May arrangement of "Luck Be A Lady," as well as "Young At Heart," "Only The Lonely," and another swinging stab at a Sinatra-sounding original song, "Oh Boy (You've Really Got It Made)." The title is worth purchase just for the inclusion of this song alone.
With the dawn of a new century, Caldwell would begin working the smooth soul and jazz that he began his career with back into his repertoire, but would still perform jazz and standard shows occasionally, one of which was recorded before an audience at the Blue Note Club in Tokyo in 2007. Released the following year, the live album features Caldwell backed by a 16-piece big band and singing a number of hits from the first two big band albums, with stellar arrangements of "I've Got The Right To Sing The Blues" and "At Last" capping the concert appearance.
Possibly owing to the success of his two first big band albums, Bobby Caldwell's lone work in musical acting was that of as the character of Frank Sinatra. Tapped by producers David Cassidy and Don Reo in the early 2000s to lead the Las Vegas production of their new musical "The Rat Pat Is Back," Caldwell received rave reviews for his performance as the Chairman of the Board, the production holding court in the Congo Room of the Sahara Hotel.
Backed by Lon Bronson and orchestra, the musical takes place on Sinatra's birthday in 1961 and borrows heavily from the comedy routines and musical shtick the real singers made famous during their stands at the Sands in the early to mid-1960s.
Paying tribute to Sinatra came to form again with Caldwell when he reentered the studio to record his first big band album in a number of years in 2014. Produced in advance of the upcoming Sinatra centennial, the resulting album, "After Dark," features Caldwell digging deep into the catalogue and reviving a number of great arrangements written expressly for Sinatra, including bright revivals of Billy May's "Follow Me," "Fly Me To The Moon," "Come Fly With Me, "Saturday Night," "You Make Me Feel So Young," as well as a new bossa/swing treatment of his original 1978 hit "What You Won't Do For Love," bringing his crossing of genres full circle. Mixing Sinatra arrangements with new original backings by associates Andrew Neu and Jason Long, this is an album that warrants your attention. If you're a Sinatra fan, you'll be impressed by the choice of material. If you just plain like big band music, you'll be impressed by the arrangements and musicianship. Above all, the vocal quality is one you shouldn't miss.
At the present time, Caldwell divides his time between the United States and Japan, where he has developed a strong following in the years since his first breakout hit. He performs both rhythm/blues as well as jazz/standards oriented shows, his most recent swing stand having took place at Birdland Jazz Club in New York City last year, performing selections from "After Dark" with a top-notch big band.
Although there are no jazz shows scheduled yet for this year, given the path his career has taken so far, its most likely that he'll be returning to the grand tradition of standards in the near future. Don't think of him as an imitator or a successor. See him for the characterization he tries to get across in his albums; someone who has a deep-rooted love and appreciation for a great type of music, SINATRA music, as much as you do.
Until next time, Sinatra lovers!
Jerry Pearce is an amateur singer in the vein of Frank Sinatra, Perry Como, and Dick Haymes and has released two discs of standards music, Crossroads in 2010, and One Summer Night in 2016. Samples of his music can be heard on his YouTube Channel. To purchase his CDs use the form box below.
Comments or questions are welcome.