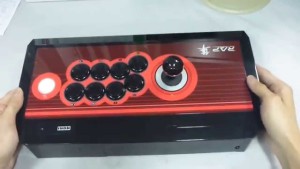 By DeShawn Harry
I have just recently got back into fighting games from a long hiatus due to my friends not being a fan of them or not willing to put in the time to get better. When I first started to getting into this genre of games I had a friend let me use his arcade stick and wow was it a nostalgic experience. It's just like being at the arcade but now you don't have to spend a quarter every time you want to play. So naturally I wanted one for myself. My experience with arcade sticks isn't huge but I've owned a 6 button Hori VX and a Madcatz sf4. With the introduction of street fight 5 and killer instinct I wanted an upgrade that would work with the Xbox one and PC. The Hori RAP V was the answer.
Ordered from arcadeshock.com I received the RAP V and instantly went to the unboxing. Now first off I will say for me packaging is very important! If I make an investment in your company I would like to see at least some effort into going the extra mile. That can be anything, from a product catalog, stickers, or a poster. Reminiscent of the experience opening a Razr product. If you have never opened one I suggest Razr's firefly mouse surface. Back to the Hori, I was extremely let down by the packaging, lacked heavily in sex appeal. The graphics on the box are good, looks pretty standard and has everything you need to know but the inside, whew. Your stick is definitely safe it's not bad in that aspect but it's wrapped in white foam bag material and held in place by what seems to be heavy duty egg carton material and that's all you get on the inside.
After ditching the garbage they call packaging I was left with a beautifully designed black (which was the color I chose) Real Arcade Pro stick. The reflective surface makes for an expensive experience while in the lap. Further use proves smudges are a pain in the ass but this isn't your refrigerator so can't be to mad at it. The lipped sides are handles and cover the home button and functionality switches. There is no visible cord when you first get it due to the cord housing on the front left potion of the stick which was a great idea from Hori to make it look sleek even on the shelf.
The Hori Real Arcade Pro V comes stock with the Hayabusa joystick and Kuro buttons. When it comes to the joy stick I have not been much of a fan of the Hayabusa, it just feels really "loose" to me. On the right side of the stick we have the Kuro buttons, which I have actually come to enjoy. They feel responsive and boast 60% reduction of wear on the lifetime of the buttons comparably. What I have found is that the buttons are wider than the Sanwa buttons I have been using and I have fat fingered some buttons due to the increased activation portion of the button. And what I mean by that is the actual part of the button that you press down is wider, not the button housing itself, it's still the 30 mm sized button housing. I also ordered a Seimitsu LS-62-01 and Sanwa buttons that I will review later when it's installed but I wanted to give the stock RAP V a true review.
Overall it's a solid stick that has the functionality to be on PC, Xbox 360, and Xbox one. The packaging is non-existent but the look of the Real Arcade Pro V is an elegant stick that can compete right out of the box. I would definitely recommend this stick to anyone looking to get into fighting games that wants an attractive sleek arcade experience.

Comments or questions are welcome.