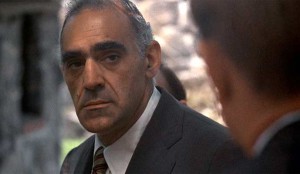 By "Bad" Brad Berkwitt
Character actor Abe Vigoda, whose great mug and at times, sad face who was part of the cast of the greatest movie ever made "The Godfather" where he played Sal Tessio, has died at the age of 94. He also was beloved character Detective Phil Fish on the 1970s TV series "Barney Miller".
Vigoda's daughter, Carol Vigoda Fuchs, told The Associated Press that Vigoda died Tuesday morning in his sleep at Fuchs' home in Woodland Park, New Jersey. The cause of death was old age. "This man was never sick," Fuchs said.
I grew up on Barney Miller which my dad and I always watched.  As well, my father a former actor, loved "The Godfather" and also of course, I saw it with him first. I always loved Abe Vigoda.  One other role he doesn't get enough credit for is in the Wesley Snipes, 1993 film "Sugar Hill", where he played Mafia boss, Gus Molino.
NewzBreaker extends our deepest condolences to the Vigoda family in their time of grief….
Comments or questions are welcome.