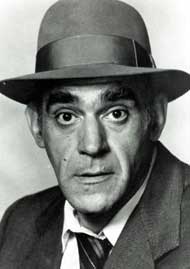 By Dave Siderski
Veteran actor Abe Vigoda passed away today after a brief illness. Vigoda, the son of Jewish immigrants, was born on February 24, 1921 in Brooklyn, NY and began acting in the late 1940's. After gaining some notoriety playing various roles on Broadway in the 1960's, his career really began to take off in the 1970's. First, he landed the role of gangster Salvatore Tessio, close friend of Vito "Don" Corleone, in Francis Ford Coppola's movie classic "The Godfather" in 1972. A few years later, he was cast as Detective Sergeant Phil Fish in the classic ABC sitcom, Barney Miller. Vigoda's rugged, sullen appearance along with his dry wit made him a terrific fit for both characters.
Vigoda's penchant for playing characters much older than his actual age led to numerous false reports of his death over the years, starting in the early 80's. He always had a great sense of humor about this, appearing occasionally on "Late Night with Conan O'Brien" to poke fun at these hoaxes. Among Vigoda's later movie appearances included his role as gangster Gus Molino in the 1994 film "Sugar Hill" which featured Wesley Snipes. At age 88, he also appeared in a classic Snickers television commercial with Betty White which aired during Super Bowl XLIV on February 7, 2010. Not bad for a guy who'd been written off nearly 30 years earlier!
In the end, Vigoda died at home in his sleep at his daughter's home in Woodland Park, New Jersey. He lived a long and prolific life and is survived by his daughter, three grandchildren and a great-grandson. Rest in Peace Abe Vigoda! You were true Old School!
Comments or questions are welcome.