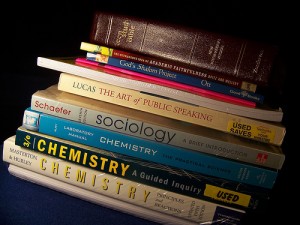 Image via Flickr by Bob Price
Ask anyone about their favorite actor, and of course they'll almost certainly be able to relate what their current gig is, who they're dating, married to or divorced from, any scandals they've been involved in recently, and a myriad other personal details. But ask about their fave performer's academic credentials and the result will likely be a blank look. That's because people assume, if they think about it at all, that a professional actor's academic training will have been in the field of, well, acting. Maybe at the NYC High School for the Performing Arts or the Royal Academy of Dramatic Art.
But the truth is that many famous thespians have degrees in fields that are about as far removed from acting as can be. Here six stars of the silver screen with surprising college degrees.
Celebrities Often Have Backgrounds You'd Never Have Guessed
"Weird Al" Yankovic – Many a cynical critic might be surprised that the king of sophomoric humor ever left high school, but Alfred Matthew Yankovic, after serving as valedictorian of his senior high school class, went on to earn an undergraduate degree in architecture from California Polytechnic State University.
Mayim Bialik – The nerdy neurobiologist from The Big Bang Theory doesn't have to try too hard to stay in character, she's had plenty of real-life practice while earning her PhD in neuroscience from UCLA. She had been accepted to both Yale and Harvard after graduating from North Hollywood High School, but chose to stay close to family.
Ray Romano – Romano's academic training is possibly the least likely preparation for a career as a comedian, or possibly his sense of humor is a direct result of it. He holds a bachelors in accounting from Queen's College in NYC. It wasn't a wasted degree though, he met his wife Anna when they were both working for the same bank.
Ron Jeremy – There's not much need for book learning in Ron Jeremy's acting specialty, but the adult film star has some nonetheless. He holds a master's degree in special education, though one of his undergraduate minors was theater, both from Queen's College in NYC. He started his secondary career at age 25 when a girlfriend sent photos of him to "Playgirl" magazine.
Natalie Portman – The young star of the Star Wars prequel trilogy, Thor: The Dark World and Black Swan, who has stated that she'd "rather be smart than a movie star", has put her ethic into action by earning a bachelor's degree in psychology from Harvard University.
Dolph Lundgren – The super-sized Swedish actor, known for his roles as the Russian boxer Drago in Rocky IV, He-Man in Masters of the Universe, and more recently as Gunner Jensen in The Expendables, has proven that he has the brain to go along with the brawn. He holds a chemistry degree from Washington State University, a bachelor's in chemical engineering from Stockholm's Royal Institute of Technology, and a master's degree in chemical engineering from the University of Sydney. He reportedly has an I.Q. of 160.