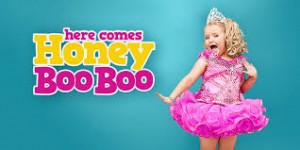 By Anne Goetz
TMZ broke the exclusive news on Friday – The TLC mega-hit, "Here Comes Honey Boo Boo" has been cancelled.
But not for the reason you're thinking.
With the recent reported break-up of the show's parental figures, June Shannon and Mike "Sugar Bear" Thompson, rumors have surfaced that Shannon has reunited a relationship with old flame, Mark McDaniel.
In itself, the declaration isn't remarkable news, except that McDaniel reportedly served 10 years in prison for child sexual abuse. Shannon has denied the allegations, claiming that she would never put her children in jeopardy, but her denials weren't strong enough to prevent TLC from ending the show immediately.
In a statement, representatives for TLC said, "Supporting the health and welfare of these remarkable children is our only priority." According to TMZ, an entire, completed season of "Here Comes Honey Boo Boo" will never see airtime, thanks to the new allegations.