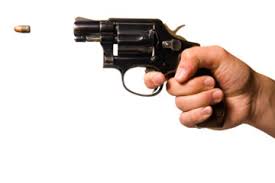 By David Stillwell
Breaking news out of North Carolina: According to WECT News, three armed criminals decide to target the home of a 19-year-old woman. They enter the house to rob and rape her. What transpires is not according to their plans.
After knocking on the door the three men forced their way into the home. They were armed and demanded money. Forcing the grandparents at gunpoint to open their safe while another of the robbers tried to rape the granddaughter. The gutsy grandpa grabbed a gun and shot all three of the intruders. He too was shot. The gunmen fled the scene, stealing the grandpa's caddie. They were later apprehended when they sought medical care for their gunshot wounds at a Dillon, North Carolina Hospital.
The grandfather was also shot several times He remains in critical condition following surgery. One robber is dead from the gunshot wounds. The other two remain in custody and are being treated for their wounds.
This is an exemplary case that shows why banning guns is not the answer to solving gun related crime. Personally I think a judge should have come to the hospital pronounced them guilty and they should have been allowed to die from their wounds. These are not people who should be sucked into the system and benefit from taxpayer money. They should be tried and executed. Their deaths can serve as a reminder that crime does not pay.