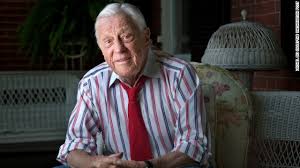 By Anne Goetz
Benjamin C. Bradlee, Vice President at Large of The Washington Post, died Tuesday. Bradlee served as both managing editor and later, as executive editor of The Post. According to sources close to the lifelong journalist, Bradlee suffered from Alzheimer's Disease later in life. Bradlee was a 2013 recipient of The Presidential Medal of Freedom. In his presentation speech, President Barack Obama called Bradlee, "One of the most respected newsmen of his generation." According to The Post.
During the 1970s, Bradlee teamed with The New York Times to lead the charge against the Pentagon for the release of the Pentagon Papers – a secret report concerning America's involvement in the Vietnam War. Bradlee won his battle and published the papers in the Washington Post, causing embarrassment and dissention in the Nixon Administration. Coupled with The Post's famous reporting of Watergate, this act was instrumental in forcing the resignation of Richard Nixon. Under Bradlee's leadership, The Post won a Pulitzer Prize for its handling of Watergate.
In 1995, Bradlee wrote an account of his life titled, A Good Life: Newspapering and Other Adventures," which chronicled his charmed existence.
Bradlee was 93.