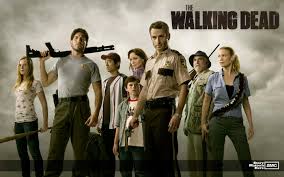 By Anne Goetz
Did "The Walking Dead" cross a line this week?
Sunday's episode saw cannibalism at its finest – with a victim left alive to lament his doom. It really looks like the producers plan to serve Bob Stookey up piece by piece, leaving him alive until the very end.
Not your typical Sunday night fare.
The AMC zombie mega-hit is only two episodes into its new season, and already we've glimpsed human torsos hanging from meat hooks and good guys slaughtered like cattle. Yes, we got a little satisfaction in the whole explosion of Terminus, but fans are left wondering just how much more shocking (and by shocking, I mean nauseating) things can get in the apocalypse.
What's on next week's menu? Real live baby back ribs?
Toddle away Judith! Toddle away while you still can!
NewzBreaker Is Now Hiring Entertainment Writers