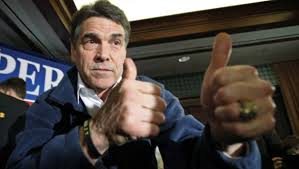 By David Stillwell
What an idiot. Rick Perry is a public disgrace and a prime example of why American Politics needs to change. His press conference about Ebola is a tragedy.
Minute 1:03: He asks President Obama to Fast Track the CDC acknowledgement of health "facilities that are better prepared to deal with diseases like Ebola." The goal would be that such a statement would "let people know" that there was a qualified healthcare facility that could treat them if they were to get sick in Texas.
Um… If you are the Governor of Texas, why don't you already know this information? I mean there are other diseases that are just as infectious as Ebola in Texas. There has already been a series of errors that are hospital related, leadership related, and well stupendously erroneously allowing the spread of Ebola across most of the United States. So where are you going for your vacation? ICU?
Minute 1:18: "Reminded us just how dangerous this virus truly is"…. I don't know. Ebola has been a world issue for quite some time. I mean people in West Africa have been dying of Ebola for years and years. It has been a major concern by the CDC and the World Health Organization for decades… but thanks the "Mr. Duncan" the Texas Governor is suddenly reminded that Ebola is dangerous. Seriously! How long would it take the Texas Governor to realize that West Africa was not a country in South America?
I admit that I really lost interest by 1:20-minute mark. When someone who shows up to a press conference to talk about the deadly consequence of Ebola and they are dressed like an undertaker it just becomes as skit on SNL. The final nail in the coffin, no pun intended, was his failure to follow his nicely prepared speech. When a public official begins to have trouble pronouncing five letter words there is a problem. Granted, Texans do drawl, but this was not the warm Texas drawl, this was the purity of a struggle that syntactically was disturbing. I cannot imagine what Rick Perry has cost his state in lost tourism or the nation for that matter. Please tell me he is not running for re-election… please……
Feel free to watch the press conference for yourself.