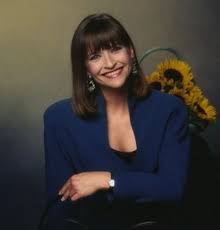 By Anne Goetz
Actress and comedienne, Jan Hooks, died today in New York. She was 57.
Hooks rose to fame and fortune on the late-night cult favorite, Saturday Night Live, where she worked for five seasons from the late '80s to early '90s. She later had parts in the southern, gal-pal sitcom, "Designing Women, "and in movies such as "Pee Wee's Big Adventure,"" Batman Returns" and "Simon Burch," but she'll perhaps always be best remembered by fans of SNL for her portrayal of flawed 80s icons Tammy Faye Bakker, Kathie Lee Gifford and even Nancy Reagan. (Don't even consider moving the Limoges.)
Hooks was hilarious as one half of the slightly sheepheaded Sweeney sisters of SNL who were notorious for breaking into song at the drop of a drink. In her slinky dress and magnificently 80s blond wig, she happily elevated the art of overacting to majestic heights.
Preceded in death by fellow comics Uncle Jimmy Mack, Robin Williams, and Joan Rivers and by former cast members Don Pardo (SNL) and Meshach Taylor (Designing Women,) Hook's death is the last in a long line of blows to comedy fans in 2014.
She will be sorely missed.