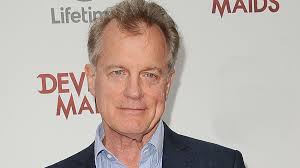 (Publisher note: Bob Price is our newest entertainment writer at NewzBreaker. On behalf of the team, we welcome him aboard.)
By Bob Price
The firestorm of shock and outrage over accusations of child molestation against actor Stephen Collins continues to intensify as new details emerge in the case.
Collins, 67, is best known for his role as the minister father on the popular television series 7th Heaven, which ran from 1996-2007.
On Tuesday an audiotape was leaked to entertainment website TMZ on which Collins can be heard admitting to molesting an 11-year-old female relative of his first wife multiple times over a two year period, and to exposing himself to several other underage girls.
Collins is in the midst of a divorce from his current wife, Faye Grant, and the tape which was leaked was secretly recorded by Grant during a marriage counseling session in 2012. Under California law, it's legal to secretly record a conversation in order to gather evidence of a violent felony.
The initial molestation occurred in New York, and a copy of the tape was also given to the New York Police Department, who sent detectives to interview Collins in California. The incident occurred in 1972, but the victim didn't come forward to report the incident until 2012. At the time police declined to pursue the matter, stating that the statute of limitations had run out, but now they're saying the case is open because the time limit didn't begin until the crime was reported. Collins also admits on the tape to exposing himself to at least two other minor girls. No charges have been filed to date.
Grant denies leaking the tape to TMZ, saying she gave the tape to authorities in 2012, but Collins' lawyer, Mark Kaplan, says Grant has been using the tape to try to extort money from Collins through the divorce, and had also approached several people in an attempt to sell the tape.
On Wednesday, Grant claimed that just prior to the birth of their daughter in 1989, Collins told her he hoped it wasn't a boy because he didn't trust himself and might have molested the boy. She released the contents of an e-mail she allegedly wrote to Collins in 2013, saying in part "The comment you made just before I gave birth to our daughter when you said you hoped we didn't have a little boy, because 'you just didn't know if you could keep his little penis out of your mouth' was indication enough that you were sick …I should have followed my gut then, and then again 14 years ago, and kicked your ass to the curb."
Also on Wednesday, a report of a gunshot at Collins' home spurred a large police response and rumors of suicide, but the actor was not at home at the time and the report was apparently unfounded.
Collins has already suffered a backlash from the accusations. He's resigned his position as a board member of the Screen Actor's Guild, and has been dropped from a supporting role in the upcoming film Ted 2.
Collins has yet to issue a statement about the accusations.