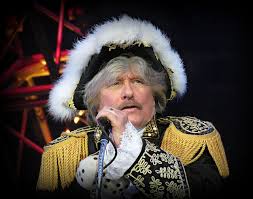 By Anne Goetz
The Madman of Rock and Roll is playing a new venue now.
Paul Revere, legendary front man of 1960s rock band, Paul Revere and the Raiders, died peacefully yesterday at his home in Idaho. He was 76.
In a tribute on the Raiders website, manager Roger Hart eulogizes his friend as the "driving force" behind The band, and speaks highly of the trademark humor that earned Revere the nickname Madman of Rock and Roll. Hart likens Revere and his Raiders to "a well-oiled machine with occasional spare parts." And indeed, Revere toured with his band right up until two months before his death. He officially retired in August of 2014, and the band planned to carry on without him, billing themselves as Paul Revere's Raiders.
Revere's early career rivaled the stuff of dreams as appearances on "Dick Clark's American Bandstand,""The Ed Sullivan Show," and the "Tonight Show With Johnny Carson" brought fame and fortune to the group, who became known for such hits as "Indian Reservation," "Hungry," and "Kicks" — the last of which gained notoriety when it was listed as number 400 on the Top 500 Greatest Songs of All Time, by Rolling Stone Magazine.
In a 2011 YouTube interview with Chuck Stenberg, Revere offers up his trademark laugh. He can be seen chatting and reminiscing over old photos of the band, sharing them with someone off-screen — possibly his wife of 35 years, Sydney Revere. And it's in this video that the Madman of Rock and Roll sums up the last 73 years of his life: "It's still as much fun for me today as it was then, amazingly enough."
It's not a phrase you might expect to hear from a Nebraska boy who rocketed to fame and fortune during some of the most turbulent years in America. But then those who knew Revere best would say it was classic Paul, indeed.
In 2010, Paul Revere and the Raiders were inducted into the Hit Parade Hall of Fame — a fitting reward for a group who helped to chisel the new face of rock and roll during the 60s and 70s.
Revere is survived by original Raiders, Mark Lindsay and Phil Volk. He was preceded in death by band members Drake Levin and Mike Smith.