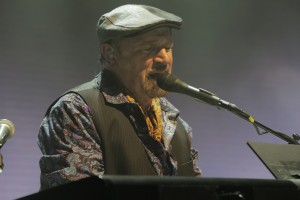 For legendary singer-songwriter Felix Cavaliere, making people feel good is primary to his illustrious 50-year career that includes the Rock & Roll Hall of Fame, Songwriter Hall of Fame, Vocal Group Hall of Fame and Grammy Hall of Fame. Few artists can claim they defined a generation, but Cavaliere continues to remind us to keep listening for the world's beauty.
Felix Cavaliere's Rascals are coming to The Joint inside Hard Rock Hotel & Casino Tulsa on Dec. 29 at 8 p.m. Tickets start at $35 and go on sale Oct. 2.
Early in 1965, Cavaliere formed the 'Young Rascals' with Dino Danelli, Eddie Brigati and Gene Cornish. That October, they caught the attention of promoter/manager Sid Bernstein with their high-energy set at Long Island's elite club Barge. Signed to Atlantic Records and now called The Rascals, the mega hit "Good Lovin'" struck No. 1 in February 1966. They followed suit with a string of hits like "I've Been Lonely Too Long," "Groovin'" (No. 1 in 1967), "How Can I Be Sure," "A Girl Like You," "A Beautiful Morning" and "People Got to Be Free" (No. 1 in 1968). The Rascals are considered the best 'blue-eyed soul' group to come out of the 1960s, as well as one of the groups with the most record sales.
By the early '70s, The Rascals experimented with more jazz-influenced sounds and moved to Columbia Records. The Rascals disbanded in 1972. Cavaliere's solo career thrived during this decade. He released his self-titled debut album with Todd Rundgren at the producer helm. His follow-up albums were "Destiny" (1974), "Castles in the Air" (1979) ("Castle in the Air" produced another Top 40 hit – "Only a Heart Sees" reached No. 2. ) and "Dreams in Motion" (1994), and in 2008 he collaborated with Stax guitar legend, Steve Crooper, on the Grammy-nominated "Nudge it Up a Notch" and again in 2010 with "Midnight Flyer."
Cavaliere calls Nashville home base, where he is constantly collaborating and writing new material. Visit FELIXCAVALIEREMUSIC.COM.
Hard Rock Hotel & Casino Tulsa has twice been nominated for the ACM Award for best casino venue. It is located off Interstate 44 at exit 240. All guests must be 21 years of age or older. Ticket prices and information on upcoming shows are available online in The Joint section of www.hardrockcasinotulsa.com or by calling (918) 384-ROCK. The Joint box office is open from 10 a.m. – 6 p.m. Monday through Thursday and 10 a.m. – 9 p.m. on Friday and Saturday. All guests must be 21 years of age or older.