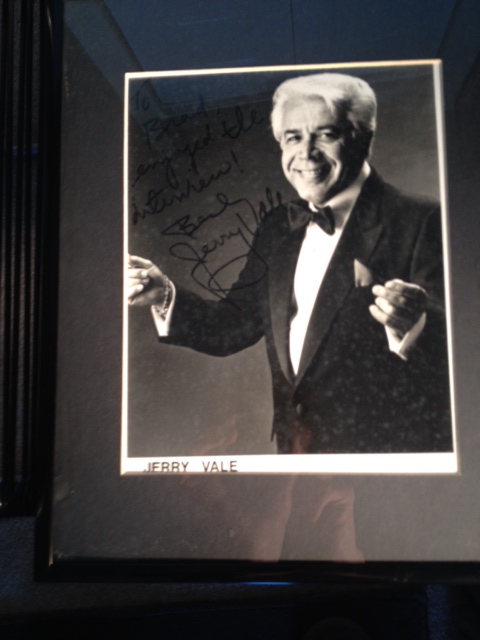 In With the Crowd… Up Close and Personal With Singing Legend Jerry Vale
Interview by "Bad" Brad Berkwitt (Copyrighted 2002 Boxing Interviews Of A Lifetime)
(Jerry Vale sadly passed away two days ago, but his music and incredible voice will live on forever. In 2000, I had the honor to interview Jerry for my boxing Book, BOXING INTERVIEWS OF A LIFETIME. He was very kind and really loved the sport of boxing like I do. Here is our interview. RIP Jerry, you will never be forgotten.)
Once again, I have the unique pleasure to bring to you another celebrity interview. This time with one of the top Italian-American singers of the last 45 years, Jerry Vale. For all those sons and daughters looking for the perfect gift to make their parents happy, go out and purchase a Jerry Vale compact disc for them to listen to. I guarantee they will thank you for years to come.
Jerry, who has graced stages across the world for many years, has a live show that is a must see. It includes warmth, class and above all, great music sung by a great singer. Catch Jerry Vale at any of his many performances across the United States.
Jerry, as you will read is a diehard boxing fan and truly a nice man. We both in fact, share some of the same views, as you will see in the following interview.
How long have you followed boxing?
Most of my life. I really learned to appreciate it, as I got older.
Who do you feel is the greatest fighter of all-time?
I would have to go with Rocky Marciano. He retired undefeated and was a very big puncher. I was friendly with Rocky and I remember when he fought Joe Louis. Rocky felt really bad about beating Joe up.
What era do you think had the best fighters and why?
I think back in the era when Rocky Graziano fought Tony Zale. The late 40's had some very exciting fights. I was friendly with Rocky and can remember when Jake, Rocky and I, were eating dinner over my house in the Bronx. Rocky said he felt really good and was in great shape. He turned to Jake and said, "We should fight." Rocky really meant it. Jake really wasn't interested in the proposal. That would have been some exciting fight if they fought. I saw many of Jake fights over the years and even remember being there when he fought Irish Bob Murphy at Madison Square Garden and lost by a knockout.
Who are your top three favorite fighters of all-time and why?
Rocky Marciano for his huge punching power. Wille Pep for his great boxing ability. I remember when he fought Sandy Saddler and just gave him a boxing lesson. Finally, Muhammad Ali. I have met Ali many times and he is a lot of fun. He always made me laugh when he used to show me magic tricks all the time.
In today's boxing, do you feel there are any throwback fighters?
I would say Oscar De La Hoya. His style and whole personality have traits of the fighters of old. We share the same doctor.
Do you prefer 15 rounds vs. 12 in championship fights?
I like the 12 rounds better because it makes the fighter do more earlier, and is probably safer for them too.
What is the greatest fight you have ever seen and why?
The Thrilla in Manilla. That was some fight with all the action in it.
Where did you watch The Thrilla in Manilla?
I think a big screening PPV in Las Vegas.
Who did you want to win it?
Well, I like the underdog, so it would be Joe Frazier.
What do you think of boxing today vs. when you first starting watching it?
I liked it better when you had one champion instead of all these belts. Today, I couldn't tell you who the Lightweight Champion is because there are so many. You have all these organizations like the WBA, WBC and IBF. There are just too many belts. There should be one world champion in each weight class.
Finally, in all the years you have been a boxing fan, what was the most brutal knockout you have ever seen?
Well Brad, I was at the Emile Griffith vs Benny "The Kid" Paret fight. I knew if they did not stop it sooner, Benny was going to be seriously hurt. In fact, I can remember screaming for them to stop the fight. It was stopped too late and Benny lapsed into a coma, which he never recovered from and eventually died. Very Sad!
As always fight fans, keep reaching for the stars, and all your dreams can be fulfilled.