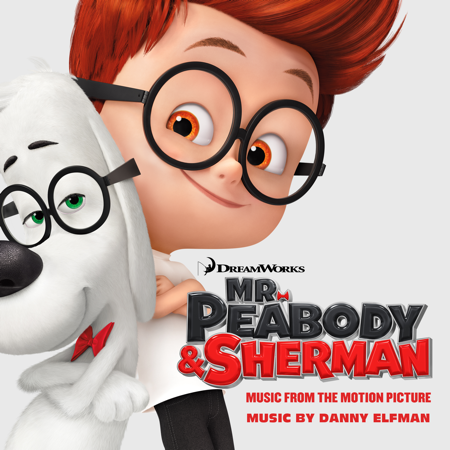 Relativity Music Group is set to release the music from the upcoming DreamWorks Animation film, "Mr. Peabody & Sherman," on March 4th. The soundtrack features an original score from acclaimed composer Danny Elfman the mastermind behind close to 50 film scores for acclaimed films such as "Batman," "Spiderman," "Men in Black," "Edward Scissorhands," "The Nightmare Before Christmas," "Good Will Hunting," and "Big Fish," as well as television theme songs that have become pop culture staples for shows including "The Simpsons" and "Desperate Housewives." The soundtrack also includes John Lennon classic "Beautiful Boy (Darling Boy)" as well as a new original song, "Way Back When" from electro-tinged folk-rock buzz band, Grizfolk, who will be heading out on an international tour with Bastille on March 8th, a day after the film hits theatres. Stream "Way Back When" on PASTE Magazine here: http://bit.ly/1cQZnQA. Stream the entire soundtrack exclusively on Consequence of Sound here: http://bit.ly/1dUqWFY. Pre-order the soundtrack on iTunes here: http://bit.ly/1cQZnQA.
In theaters nationwide March 7th, Mr. Peabody & Sherman, is a DreamWorks Animation production directed by Rob Minkoff ("The Lion King," "Stuart Little") and produced by Alex Schwartz and Denise Nolan Cascino. Mr. Peabody (voiced by Ty Burrell, Emmy Award® Winner – "Modern Family"), the most accomplished dog in the world, and his mischievous boy Sherman (Max Charles -"The Amazing Spiderman"), use their time machine-the WABAC-to go on the most outrageous adventures known to man or dog. But when Sherman takes The WABAC out for a joyride to impress his friend Penny (Ariel Winter – four-time SAG Award winner – "Modern Family, they accidentally rip a hole in the universe, wreaking havoc on the most important events in world history. Before they forever alter the past, present and future, Mr. Peabody must come to their rescue, ultimately facing the most daunting challenge of any era: figuring out how to be a parent. Together, the time-traveling trio will make their mark on history. Stephen Colbert, Leslie Mann, Mel Brooks, Allison Janney, Stanley Tucci, Patrick Warburton, Lake Bell, and Dennis Haysbert round out the film's all-star cast.
Danny Elfman is a self-taught composer born and raised in Los Angeles, California. His first orchestral composition, Serenada Schizophrana, was played at Carnegie Hall. The composition was featured in the sountrack to the IMAX film Deep Sea 3D, which was conducted by John Mauceri and narrated by Johnny Depp and Kate Winslet. In 2005, Elfman worked with Tim Burton on the film Charlie and the Chocolate Factory and the stop-motion animated musical Corpse Bride. He has received a Grammy and has been nominated for three Academy Awards.
With members hailing from America and Sweden, Grizfolk, has been garnering international attention for their undeniably catchy and unique blend of folk, rock and electro-pop. The band's most recent single, "The Struggle," not only sold over 10k, but sparked a number of remixes from artists including Youngblood Hawke. The band already has tours with Haim and Bastille under their belt, as well as critical praise from the likes of Rolling Stone, Consequence of Sound, Filter Magazine and more.
Mr. Peabody & Sherman Music from the Motion Picture Track Listing:
1. Mr. Peabody's Prologue
2. Reign Of Terror!
3. The Drop Off
4. The Dog Whistle
5. The Cherry Tree
6. A Deep Regard
7. Beautiful Boy (Darling Boy) – John Lennon
8. Dinner Party
9. The Petersons / The Wabac Machine
10. Aquarela Do Brasil
11. Off To Egypt
12. The Wedding Exodus
13. Hammer-Time
14. The Flying Machine
15. Trojan Horse
16. War / Disaster
17. History Mash-Up
18. I'm A Dog Too
19. Fixing The Rip
20. Back To School
21. Aquarela Do Brasil
22. The Amazing Mr. Peabody
23. Way Back When – Grizfolk
Relativity Music Group recently released soundtracks for DreamWorks Animation's The Croods, Safe Haven, Millennium Films' Olympus Has Fallen and The Iceman as well as Focus Features' Hyde Park on Hudson and Promised Land.
For more information on Mr. Peabody & Sherman, please visit http://www.mrpeabodyandsherman.com. You can also follow the film on Facebook and on Twitter through #MrPeabody.
ABOUT RELATIVITY MUSIC GROUP
Relativity Music Group was formed in 2009 under the leadership of Happy Walters (Co-COO of Relativity Media) and Jason Markey (EVP Music & Soundtracks). Since then, the music division has provided music supervision, music publishing catalogues and soundtrack services for films produced and/or financed by Relativity Media and other major Hollywood studios, including such titlesas: Don Jon, HBO's Clear History, Turbo, The Croods, Safe Haven, Hyde Park on Hudson, Promised Land, Chasing Mavericks, ParaNorman, American Reunion, Mirror Mirror, Act of Valor, Haywire, Bridesmaids, Beginners, Dear John, Repo Men, Couples Retreat, A Single Man, Love Happens, Biutiful, The Adjustment Bureau, Zombieland, Brothers, 30 Rock, A Perfect Getaway, Limitless, The Fighter and many others.
Relativity Music Group plans to release 15-20 soundtracks per year. Its current domestic licensing and distribution agreement is with Capitol Music Group/Caroline.