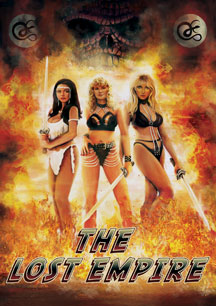 In 1983, a young director stepped behind the camera for the first time and began to shoot a film which he thought might be both his first and his last. An ardent fan of "B" cinema, Jim Wynorski decided to cram this film with everything he loved. "I got my first break doing The Lost Empire for Plitt Theatres," says Jim Wynorski. "The late owner, Henry Plitt (a decorated war hero), wanted to make a low budget sci-fi action picture as a tax loss. I never knew that when I made the show, so I put my heart and soul into the project. When it finally got completed, Plitt actually liked it enough to give it a wide theatrical release – where it actually made some money," comments Wynorski.
The film had a limited theatrical release followed by an initial release on VHS. As a result of a series of corporate changes at Plitt, "The Lost Empire" was set aside and lost to generations of genre movie fans. Wynorski's career took off and resulted in an immense body of work. "It was always a deep regret of mine that my first film was caught in this limbo," says Wynorski "For years I did all kinds of detective work trying to get my film seen."
In 2007, Wynorski began working with Indiana based producer, Bill Dever. Dever was more than familiar with Wynorski's work and was by his own admission "a big fan". Off and on they began searching for The Lost Empire. " We had a lucky break when we discovered who purchased the assets of Plitt," says Dever. "From there the pieces fell into place; for me it was an honor to be involved in the resurrection of The Lost Empire."
They re-acquired the rights and Wynorski went to work readying his first born to the world for the second time. Dever engaged the sponsorship of Doremi Labs, a leader in digital cinema technology. Doremi has been in the forefront of leading the digital cinema revolution. "Doremi not only is a company deeply involved financially in digital cinema," says Michael Archer VP Of Digital Cinema for Doremi, "We also care deeply for the legacy and tradition of cinema and for us this was a natural fit."
In the fall of 2013 projection lamps throughout North America illuminated screens with Wynorski's vision with the help of some friends and the dedication of a company very much aware of the history of the industry it serves.
Pre-Order Link: http://www.seeofsound.com/p.php?s=PMG1002
Hi Res Cover Art: http://mvdb2b.com/i/300dpi/PMG1002.jpg