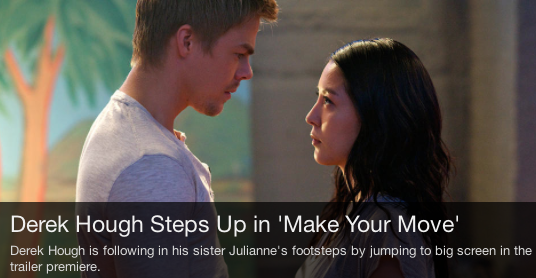 MAKE YOUR MOVE – In Theaters April 18, 2014!
—————————-
Directed by: Duane Adler
Starring: Derek Hough, BoA
—————————-
Official Website: www.makeyourmovefilm.com
Like the film on Facebook: www.facebook.com/MakeYourMoveTheMovie
Follow the film on Twitter: www.twitter.com/MYMthemovie
—————————-
Synopsis
The music is pumping, the dance floor is moving and Donny (DEREK HOUGH) stops when he sees Aya (BoA) performing with her hip-hop Cobu crew on stage at Static, the hottest underground club in New York. They come from two different worlds, but they speak the same language – dance. Against all odds, they come together and show the world what they've got in MAKE YOUR MOVE.
MAKE YOUR MOVE stars international dance sensation Derek Hough (DANCING WITH THE STARS) along with Korean pop star BoA, in her first English language feature film leading a cast of talented actors, dancers and artists in this classic dance romance, with a unique twist. Written and directed by Duane Adler (STEP UP and SAVE THE LAST DANCE), the film features choreography by Napoleon Dumo and Tabitha Dumo (SO YOU THINK YOU CAN DANCE and AMERICA'S BEST DANCE CREW).
The film is produced by CJ Entertainment (SNOWPIERCER), S.M. Entertainment and Robert Cort Productions (SAVE THE LAST DANCE). MAKE YOUR MOVE opens April 18, 2014, running time is 110 minutes.