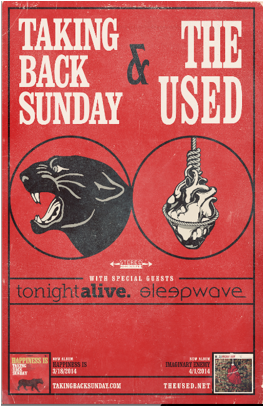 Taking Back Sunday has announced a North American co-headlining tour with The Used this spring. The tour will kick off on March 14th in Dallas, TX and wrap on April 27thin Orlando, FL, with specials guests Tonight Alive and Sleepwave. Fans can purchase digital versions of both Taking Back Sunday and The Used's new albums with a ticket starting today at 2pm EST via Applauze. These limited tickets will have a special reduced service fee along with a sale price to pre-order either or both albums. If you download the free Applauze app for iPhone/iPod Touch there is an additional specially priced bundle that includes both albums. There will also be an artist pre-sale beginning today at 2pm local time. General ticket sales will begin on Friday, January 31st at 10am local time. To purchase tickets and for more information, please visit: www.takingbacksunday.com.
Taking Back Sunday has also released their video for single, "Flicker, Fade", here: http://smarturl.it/flickerfadevideo. Directed by DJay Brawner, Lazzara tells us, "We haven't made a video in a while and we didn't want to overthink it so we connected with some creative folks and said 'remember when music videos could just be about a song?' We found a cool location that we feel matched the mood of Flicker, Fade and made a performance video that showcased the song itself. The result was exactly what we were chasing. No heavy story line to distract from the mood, just a moment in time to live inside the music we created."
The band will be releasing their new album, Happiness Is, on March 18th via Hopeless Records produced by Marc Jacob Hudson and Mike Sapone, and mixed by Claudius Mittendorfer. With the spirit of resilience and innovation dripping all over the band's sixth full-length, the album addresses some heady concepts, but it simultaneously showcases a new musical and conceptual leap for this band of mainstream misfits that's sure to endear them to fans both new and old. To pre-order Happiness Is with an instant download of single 'Flicker, Fade", please visit: hopelessrecords.com/happinessis.
For more information, please visit:
Website: www.takingbacksunday.com
Facebook: www.facebook.com/TakingBackSunday
Twitter: twitter.com/tbsofficial
YouTube: www.youtube.com/takingbacksunday
Tour Dates:
2/19 McClusky's Kingston, UK
2/20 Luxor Koln, Germany
2/21 Melkweg Amsterdamn, Netherlands
2/22 Fleche D'or Paris, France
2/23 Kasbah Coventry, UK
2/26 Koko London, UK
3/1 Silverlake Music Festival Pattaya, Thailand
3/2 Scape – The Ground Theater Singapore, Singapore
Tour Dates w/The Used:
3/14 Quiktrip Park – South By So What Dallas, TX *on sale, here: http://ticketf.ly/MkW6zF
3/15 Backstage Live San Antonio, TX
3/16 Bayou Music Centre – HWHAP Fest Houston, TX
3/18 Marquee Theatre Phoenix, AZ
3/21 In The Venue Salt Lake City, UT
3/22 In The Venue Salt Lake City, UT
3/23 Knitting Factory Boise, ID
3/25 Warfield San Francisco, CA
3/27 Palladium Los Angeles, CA
3/28 House of Blues San Diego, CA
3/29 Extreme Thing Las Vegas, NV *on sale, here: http://bit.ly/19XheGq
4/1 Ogden Theatre Denver, CO
4/2 Sokol Omaha, NE
4/4 Eagles Ballroom Milwaukee, WI
4/5 Concord Music Hall Chicago, IL
4/6 Fillmore Detroit, MI
4/8 Kool Haus Toronto, ON
4/9 The Armory Rochester, NY
4/11 Webster Theatre Hartford, CT
4/12 House of Blues Boston, MA
4/13 Tower Theatre Philadelphia, PA
4/15 Best Buy Theatre New York, NY
4/19 Sands Bethlehem, PA
4/22 Fillmore Silver Spring, MD
4/24 The Tabernacle Atlanta, GA
4/26 Revolution Ft.Lauderdale, FL
4/27 House of Blues Orlando, FL