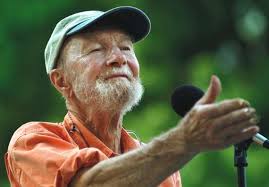 By "Bad" Brad Berkwitt
Pete Seeger a folk singer, but so much more has died at age 94 in his sleep at the New York Presbyterian Hospital, where he had been for six days. My late father Alvin Berkwitt, raised me on so many great musical artists and Pete was always in his rotation of albums. I can recall my father telling me they had met and that Seeger just didn't talk the talk, but he walked the walk when it came to humanity. We lost a great man, but the world will have his music and remember his kindness to Planet Earth for decades to come.
NewzBreaker extends our deepest condolences to the Seeger family in their time of grief.

Find out more about "Bad" Brad