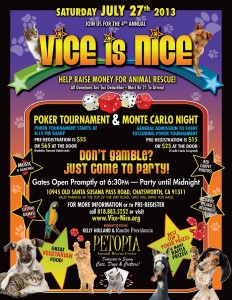 The 4th Annual VICE IS NICE Event is being held on Saturday, July 27th in Southern California. Hosted by Kelly Holland and Rancho Providencia, VICE IS NICE raises money (and awareness) to help animals in dire need of a home and medical services. Some of Southern California's biggest animal rescues will be on the receiving end of money raised from the event and sponsorships.
Last year's fundraiser was such a success it helped open Petopia, a unique adoption center in the Westfield Mall in Woodland Hills, California. "Petopia operates as an alliance of several different dog and cat rescues, and together, these rescues have found great homes for hundreds of animals that would otherwise have been euthanized at local shelters," says Kelly Holland. "We'd like to continue to support and expand the services Petopia offers by having an even bigger and better event this year."
The event will feature a poker tournament and Monte Carlo night, music, dancing, tarot card readings, vegetarian food, red carpet photos and prize raffles. The event will take place at 10945 Old Santa Susana Pass Road in Chatsworth, California. There is valet parking with limo shuttle service to the event.
Want to donate, play, or participate? Vice Is Nice is seeking sponsors, donations for the raffles and volunteers.
You can buy tickets, register for the poker tournament or donate online at www.vice-nice.org or call (818) 883-5252.
Details of the event:
Poker Tournament starts at 8:15pm SHARP
Pre-registration: $55 | $65 at the door (includes general admission)
General Admission Pre-Registration (does not include poker tournament) $15 | $25 day of event
All donations tax deductible
Music / 4 no host bars / Casino games / Tarot card readings / Red carpet photos / Raffle prizes / Great food – including vegetarian / Prizes for top 3 poker spots
Address: 10945 Old Santa Susana Pass Road, Chatsworth, CA 91311