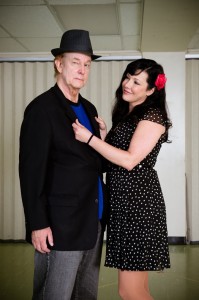 By Chas Wilcox
Photo by Traci J. Brooks Photography/Courtesy of McLean Community Players
Applegate (Mike Baker, JR.) and Lola (Annie Ermlick) hatch their plans.
Seven-time Emmy-winning TV Producer/Host Mike Baker, JR. opens in Damn Yankees at the Alden Theatre in McLean, Virginia on Friday, July 12. The musical runs through Sunday, July 28th. Baker is excited to play the role of "Applegate," a part he interviewed Jerry Lewis about in 1998 for the BRAVO Cable Network. Baker also interviewed Tony-Winning actress, Bebe Neuwirth, who played "Lola." These interviews can be seen on National Arts Television.com.
Baker's enthusiasm for Damn Yankees comes from a boyhood love of sports. Baker made television history in the mid 1980's and 1990's by being the first Television Program Director to program 250 college basketball games in a single season before ESPN. Baker also programmed a 34-hour college basketball marathon during NCAA conference weekend. Tony Kornheiser, then with The Washington Post, came out to do a story on Baker. In a stroke of genius, Baker coaxed Kornheiser into going on the air at half-time of one the game broadcasts. Tony's first response was, "I don't have a face for television." Baker responded by saying, "Tony you are the funniest sports columnist in America. Just bring some of that humor to the camera and you could be special." The rest is sports history.
Kornheieser went on to dub Baker the "Crazy Eddie of Sports Broadcasting" and Tom Knott of The Washington Times referred to Baker in numerous columns as "Mad Mike."
Rudy Martzke of USA Today often mentioned Baker and his basketball coverage on WNVT-WNVC as superior to that of ESPN.
Baker is still involved in sports and not just on stage. He begins his 28th year producing and serving as a commentator on "Tony McGee's Pro-Football Plus," which airs on the Mid-Atlantic Sports Network.
To see Mike Baker, JR. in Damn Yankees, call the Alden Theatre for tickets today at 703-790-9223 or go online.