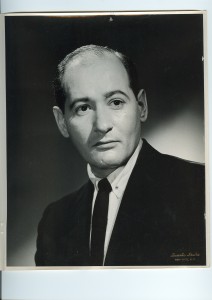 (Today would have been my Dad's 85th Birthday. I miss him now as I did on July 2, 1998 when he first left us. Dad, this is an old tribute, but one that stands just as strong for me today. I love and miss you very much. – Love Bradley)
Tribute by "Bad" Brad Berkwitt
Where did 38 years go? Only seven years old, but watching boxing with my late father Alvin in 1975 on a TV with huge rabbit ears, you know the kind where you would have to bend them to get the picture to come in. I can remember that year seeing countless numbers of fights, and it was a time when NBC, ABC, and CBS all had boxing in their schedules.
I long for those days and, with those days, for my father who is the very ink that is on this piece. Let me explain a little about my father because it's so pertinent to my love affair with the sport of boxing. In the course of his 70 years on this earth, he was friendly with many legends in the sport of boxing. Whether it was driving cross country with the late Rocky Graziano from Miami Beach to New York in the 1950s, or almost buying a then Cassius Clay's car on Miami Beach and having him in stitches with his great humor.
Working at the legendary Fontainebleau Hotel on Miami Beach and hanging out with yet another legend in Beau Jack, who owned a shoe shine stand there, or finally, a man I just adored and we lost in 2003, Kid Gavilan. Dad and Kid would sit in the bleachers cheering on a pre "Bad" Brad Berkwitt, then an amateur fighter in the early 1980s. What a great time my father must have had with all these legends, whose spirits, with the exception of Ali who is still alive, are dancing, sticking and moving in every ring throughout the world. In those rings that cemented their legends, and we sure were blessed to be part of their careers as fans.
From 1975-1979, so many fights stick out in my head, but three take the cake for me. First was Earnie Shavers' heavyweight fight where he annihilated Ken Norton in one round. The second one was Larry Holmes challenging Ken Norton for his WBC Heavyweight Championship. What a great 15th round, and to this day, I still think Norton should have gotten the decision. Then Muhammad Ali dropping a decision to Leon Spinks, who at the time had only 7 professional fights going into their heavyweight bout. We loved Ali so much, and to see him lose broke everyone's heart that night.
The 70's would move into the 80's, and my love would truly blossom with the sport of boxing, when in August 1980, I went into a community center in North Miami Beach, Florida called Allen Park. I was there to sign up for football, but heard a noise that stopped me in my tracks. That noise was coming from the other side of the wall, and I had to find out what it was. To my amazement, there was a gym and young kids my age were working the heavy bags, shadow boxing, and skipping rope. That was it, I was already dating boxing, but now I was in love with her hands down.
I turned to my dad, and to this day, I can remember that conversation 33 years ago. "Dad, can I sign up for boxing instead of football?" My dad turned to me and said, "Bradley, if this is what you want, and are willing to give it your all, I will always be in your corner." He was in my corner for the next three years and to this day, I can replay fight after fight in my mind of my very enjoyable amateur boxing run.
Three years, and 14 fights later, my stint in amateur boxing would end. In my last fight, which I trained my hind pots off for, I dropped my opponent Ronnie Williams in the second round with a perfect right hand to the jaw, but to my surprise he got back up to finish the fight. In the end, my hand was raised, and my group of friends watching the fight cheered on and on. If you have never been in the ring as an amateur or professional boxer, then it's hard to understand when we say that the noise from the crowd is truly moving to us.
During this period on November 12, 1982, I saw what has become my favorite fight of all-time and of course Dad was with me watching it on HBO. That fight was with Aaron "The Hawk" Pryor against Alexis Arguello. From that winning night in Pryor's life until this day, I consider him my favorite fighter, and have to thank boxing for bringing us together in the last couple of years at various events. Aaron is a class act, and my walls have some wonderful pictures with us together. My interview with him back in 2000 is one of my personal favorites that is highlighted in my book.
1983 also held a significant boxing event in my life, and that was the first time my father and I went to a live boxing match together. Of course, he had been to plenty, but I was getting ready to feel what you only do when sitting ringside for the action. The fight card was held at the old Diplomat Hotel in Hollywood, Florida.
The main event pitted "Smokin" Mike Perkins against Dorcy Gaymon for the Florida State Cruiserweight Title. Perkins was a stablemate of mine, and was a very nice guy. As I rooted for him, he was able to give the crowd a very exciting fight, but in the end, dropped the decision. As Pops and I left the hotel that night, I was beyond excited about seeing my first professional match, and the funny thing is that I would not see one again for some six years.
The 1980s, as all boxing fans know, had some great, great fights. Dad and I went to watch Leonard vs. Hearns I on closed circuit TV. Both of us wanted Ray to win, and when he finally did, we were with the rest of the group screaming and hollering the KO of Hearns.
On April 15, 1985, I can remember being at Yonkers Raceway with my Uncle Gene watching the closed circuit TV event of Hagler vs. Hearns. In my lifetime thus far, those are the best three rounds of boxing I have ever seen. The one thing that stands out in my mind about this fight to this day is when Hearns' eyes rolled to back of his head on the knockdown by Hagler.
A little over a year and half later, I was now a full fledged US Navy Sailor, and was attending Boot Camp at Great Lakes, IL, or as we call it "Great Mistakes." I was actually done with Boot Camp, but still was up there going through Apprenticeship Training. We were allowed some liberty, and I can remember at that time, I was a huge Mike Tyson fan. I came back to our barracks to wake everyone up on that November 22, 1986 night, to let them know we had a new Heavyweight Champion on the block and he was one bad boy.
Once training in Great Lakes was done, I was shipped out to my first duty station at NAS Pensacola Florida. I arrived there in December 1986, and took in all the sights. The following year, we had a fight that came years after it was originally was supposed to be made. The fight took place on April 6, 1987, and had Sugar Ray Leonard challenging Marvelous Marvin Hagler for his Undisputed Middleweight Crown. I would go down to the Pensacola Civic Center to watch this fight on closed circuit TV yet again.
Before the fight, I was so sure Hagler was going to win that I placed some side bets, that my measly E-2 paycheck at the time would be strained very hard to pay if I lost.
Well, by the end of the night, the civic center was in shock when Leonard was announced as the winner, and I was one broke "Squid." But to this day, and after watching the fight many times, I have to be honest, and agree that Leonard did win. My scorecard always comes up the same in rounds, 7-5 favoring Leonard.
1990-1991 were tough years on me because Boxing and I kind of went through a separation, but not a voluntary one. I was stationed in Sigonella, Sicily for these two years, and they showed very little boxing on TV. I would have to depend on the Stars and Stripes and KO along with Ring Magazine for info on the big fights, and now having the Internet to find out results as we all do, I can't imagine ever being without, but we surely didn't have it back then.
As Desert Shield/Desert Storm died down and was pretty much over, I took leave in June 1991, to come home to see my Dad in North Miami Beach, Florida. While home, boxing again took me out on a date, and this time, it was the closed circuit fight which pitted Tommy Hearns vs. Virgil Hill for Hill's Light Heavyweight belt. They were showing the fight at Lorenzo's Italian Restaurant around the corner from Dad's house in North Miami Beach, Florida. We watched the fight with a very lively crowd, but one legend was truly amongst us. It was none other than Angelo Dundee, who dad had known for years.
During a break in the action, Dad went over to Angelo's table and asked him to come over to take a picture with us. That picture, which is one of most favorites with Dad is now on my home office wall with all of the other boxing stuff from over the years.
I think boxing felt bad for me again because I had to come back to my duty station in Sicily, but in July 1991, I was at a fancy nightclub in the city of Tarimino, a resort town in Sicily. While chatting with some other Americans there, they immediately picked up on my New York accent. We started talking at length, and boxing came up. When they could clearly hear I loved the sport, they felt compelled to take me over to meet a buddy of theirs who was sitting in the bleachers, alone, and no one was bothering.
As I approached this man, I can remember him wearing a white dinner jacket, black pants, and he had a gold necklace with a boxing glove on it. In that glove he had the following letters in diamonds, MMH. Yes, he was none other than former Undisputed Middleweight Champion Marvelous Marvin Hagler. He shook my hand, tried to talk to me in Italian because I am half, but don't speak a lick except for the bad words, along with a few greetings.
He felt me out for a while with boxing questions, which I answered, all of them, then I hit him with his record along with losses and rematches of two that he went on to win. He was sold, and we talked the entire night with him showing me pictures of his family back home, and I can remember him saying that Roy Jones, JR. was the next superstar and also that Tommy Hearns was the toughest opponent in his career. As we parted, he signed an autograph card from the club to me that said, To Brad, Hang Tough in Life, Marvelous Marvin Hagler, Champ, Actor and Friend.
It was an honor to talk to such a great champion as Hagler, and as I said, boxing took care of me once again.
Skip ahead almost two years later, and I was again ringside in Woodbridge, Virginia for a then young Eric Bottjer show at a place called Total Sports Pavilion. The year was 1993 as I sat ringside watching a completely shot Mitch "Blood" Green being TKO'ed by Bruce Johnson in three rounds. I was back with my love boxing, and it was a fun night.
Fast forward a couple of years, and boxing engulfed me in a way I had thought about as young kid, but not as an adult until I was approached by a website to put my knowledge to computer keys. The year was 1998, and the column "The Berkwitt Files" put my words to a computer screen. Since that time, I have been blessed to be involved with so many different boxers, celebs and people associated with boxing, and at this point of my writing career, I look back on the last 13 years very fondly.
I am just honored to have been able to have a book published with so many of the fighters that not only did I grow up on, but so many of you. Those interviews throughout it which mean the world to me, led me to the only title I would have ever chosen and that is, Boxing Interviews of a Lifetime. Each one was just that for me. Boxing is so much more than a sport and not only do I respect it, but as I have said throughout this piece, I LOVE IT. With my dream finally coming true, of owning my own website which went live in July of 2004, with the boxing website Ringside Report which is called throughout the boxing world "The Heart of Boxing". I proudly along with a great group of writers, will continue to bring the sport of boxing forward for years to come.
Finally, to the Father I lost physically on July 2, 1998. Dad, you instilled in me this true love I have for boxing, and as long as I have a voice, I will always look out for the boxers, and the entire sport of boxing as you did during your lifetime.
From down here on earth, to you up in Heaven above. I loved you then, will love you tomorrow, and for the remainder of my life. Thanks for bringing me into the boxing world Dad…