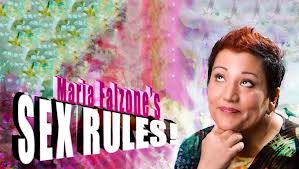 Hysterical Comedy & Sex-Ed Show Featured at The Comedy Spot, March 13-16
Renowned sex educator and comedian Maria Falzone will bring her "Sex Rules!" show to The Comedy Spot in DC-adjacent Arlington, Virginia, March 13-16. The four-day stand is a fundraiser for the International Foundation for Comprehensive Sexual Health & Education (IFCSHE), which is providing sex toys for a nightly raffle at each show.
Falzone has performed "Sex Rules!" at colleges and universities across the country, sharing her message of sex information with the trademark wit making her a headline performer in stand-up comedy. Playing to packed auditoriums, "Sex Rules!" averaged stellar student ratings of 9.7 on a 10 scale.
For more information about "Sex Rules," visit http://sexrules.org/.
"We live in a society where we get conflicting messages about sex. Our parents and society tell us to wait. In the world of advertising sex sells. So we end up thinking we should just know how to have sex," Falzone says. "Parents spend good money for us to go to college to get an education, so we can graduate and go out there and get a good job. But when it comes to sex, which most of us are going to have — hopefully more than once — we have little to no information. Some of us end up emotionally or physically scarred."
On the college circuit, "Sex Sells!" attracts students because of the comedy elements, but they leave with important information. Falzone builds messages into her college performances about body image and self-esteem — critical topics for young women — along with information about safe sex, alcohol, STDs, communication, relationships, and personal responsibility. The show is intended for an ethnically diverse audience, and Maria's content is queer-friendly. "I don't want to leave anybody out," Falzone says. "Sex rules are the same regardless of your partner."
Falzone knows the comedy club audience is different from the college audience, although the information and the message is much the same.
"I'm looking forward to this," Falzone said. "I love working comedy clubs. I've done it for years, but this is a chance to present this material in a club setting instead of a lecture hall. I can't wait to see how it turns out."
The Comedy Spot is located at the Ballston Common Mall at 4238 Wilson Blvd. in Arlington. "Sex Rules!" will take place March 13-16 at 8 pm nightly. Tickets will be available at the door and admission is restricted to 18 and older. To purchase tickets, visit http://www.eventbrite.com/event/5433547888/rss.
About Maria Falzone:
Maria Falzone is one of the most sought-after speakers on safer sex at the college level. Each year colleges and universities invite her back to teach the essential rules to greater and safer sex. Maria shares her personal story of shame and suffering about sex and how after contracting herpes from a friend she was forced to honestly look at her attitude about sex. Her ability to connect with students in a very real and personal way allows her to lay the foundation to explaining the rules to greater and safer sex. Maria reached headliner status in comedy clubs throughout the US and Europe over 15 years ago and was invited to perform at the HBO Aspen Comedy Festival where she met Suzi Landolphi, the creator of Hot, Sexy and Safer. Suzi hired and trained Maria to perform her show. A year later Maria created her funny, frank and personal lecture: Sex Rules! For more information about Maria, visit http://sexrules.org/bio.php.