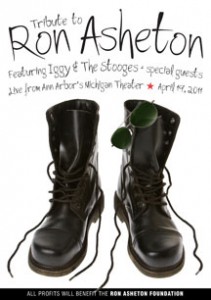 Live concert tribute to brother Ron Asheton featuring the Stooges, Henry Rollins and more!
Recorded live at the Michigan Theater, this heartfelt tribute/celebration of Stooge guitarist Ron Asheton's life and music featured Iggy and the Stooges, Henry Rollins, and guest guitarist Deniz Tek (Radio Birdman). Includes a string section on a few Stooges classics! All profits from the sale of the DVD go to the Ron Asheton Foundation which supports animal welfare and music.
Gary Graff of BILLBOARD writes:
"It was a typical night of Stooges-style brutality but in an even more passionate form, as the group and its guests took a wide swing through the repertoire, clearly moved by the sense of occasion and the cacophonous spirit of the 1,700 fans who snapped up tickets for the concert in less than an hour.
"Some of his (Asheton's) themes always reminded me a lot of…classical music in the 17th century," Pop told Billboard.com prior to the show — emcee Henry Rollins fronted the band for "I Got a Right." Pop then came on to commence a full-on Stooges performance with co-founder and drummer Scott "Rock Action" Asheton, "Raw Power" guitarist James Williamson, longtime saxophonist Steve Mackay and Mike Watt, the group's bassist since 2003.
Shirtless and manic as always, even two days before his 64th birthday, it didn't take Pop long to turn the theater to bedlam. Following pulverizing renditions of "Raw Power," "Search and Destroy" and "Gimme Danger," Pop brought dozens of fans on stage for "Shake Appeal," clearly reveling in the ecstatic anarchy of the moment. The rest of the night maintained the energy through favorites such as "Beyond the Law," "1970" and "Fun House," the "ballad" "Open Up and Bleed" and a rendition of "I Wanna Be Your Dog" beefed up by an 11-piece orchestra.
The ensemble stayed on stage as Radio Birdman's Deniz Tek, a longtime Asheton friend, spelled Williamson for "T.V. Eye," "Loose," "Dirt" and "Real Good Time," while Williamson returned for a new acoustic composition called "Ron's Tune," in which Pop sang that "the music says you'll be my friend to the end" and "because you were my friend, I always think of you again." The night finished with everyone, including more audience members, onstage for "No Fun" — whose title, of course, was the antithesis of the experience."
The complete story can be read HERE.
Preorder: http://www.seeofsound.com/p.php?s=MVD5711D
Cover Art: http://mvdb2b.com/i/300dpi/MVD5711D.jpg
Clip: http://www.youtube.com/watch?v=1HoYsFD2wDw
Track Listing
I Got a Right
(with Henry Rollins)
Raw Power
Search and Destroy
Gimme Danger
Shake Appeal
1970
L.A. Blues
Night Theme
Beyond the Law
Fun House
Open Up And Bleed
Your Pretty Face Is Going To Hell
I Wanna Be Your Dog
TV Eye
Loose
Dirt
Real Cool Time
Iggy's Speech
Ron's Tune
No Fun