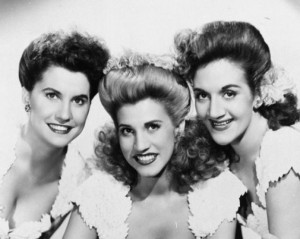 By "Bad" Brad Berkwitt
(Patty in the middle)
Legendary singer Patty Andrews 1/3 of The Andrew Sisters and then, a successful solo career died Wednesday at her home in Los Angeles. She was 94.
The Andrews Sisters, who included Patty, Maxene and Laverne, were one of the biggest girl groups in the history of the music industry, scoring more than 90 chart hits themselves and two dozen more with their frequent singing partner, Bing Crosby.
Their songs became standards of the era, often associated with World War II.
"Boogie Woogie Bugle Boy," among so many other hits, I enjoyed growing up with through my father playing their records in our home. My Uncle Stanley, who was a close friend of Patty's over the years, always kept me abreast of what Patty was up to and her husband Walter Weschler who preceded her in death.
NewzBreaker extends our deepest condolences to the Andrews Family in their time of grief.