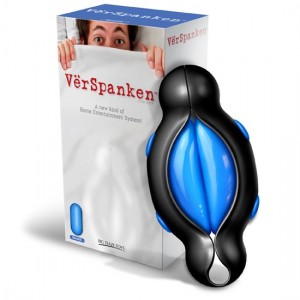 Big Teaze Toys is excited for Valentine's Day. To celebrate the release of the much-anticipated VërSpanken™ – A new kind of home entertainment system for men™, Big Teaze Toys wants to make sure every lover in America enjoys the first male toy that lets the user customize their experience every time they use it. Variable pressure, textures, temperature and techniques with an easy clean up, makes VërSpanken a revolutionary product within the adult male toy market.
"Love comes in many splendid ways," says Tony Levine, CEO and Founder of Big Teaze Toys. "Don't be alone on Valentine's day. Love is always at hand. VërSpanken™ is like a box of chocolates… Feels great going down and sticky when you are done."
VërSpanken is all about YOU. It's about the pressure you like, it's about the temperature that feels right, and it's about the texture that keeps you coming back for more. With the open-ended housing and snap closure, the user controls the pressure. Unlike other toys the user can change the texture and even the temperature experience. It's also great for couples play!
There are six different insert options available; FoamWieners™ (included in the VërSpanken box) and WaterWieners™ (sold separately), both available in Smooth, Bumpy and Wavy textures. With this variety the combinations are endless. The WaterWieners™ can be used at varying temperatures by either warming them in the microwave or chilling them in the refrigerator. Since there are two separate inserts in the VërSpanken, the user can combine temperatures textures and/or densities (foam or water). The design of VërSpanken also allows for a myriad of techniques to change up the experience- try the upward curl, rocking and swiveling or maybe the twist! And since VërSpanken is an open-ended toy, clean-up is a breeze. Made of 100% recyclable materials, VërSpanken, like all Big Teaze Toys, contains no latex, phthalates, lead or heavy metals. Patent(s) Pending.
Learn more here: http://bigteazetoys.com/products/ttpwy/verspanken
Big Teaze Toys is a Los Angeles-based product design and manufacturing firm focused on creating fun and innovative products for adults. Created in 1997 by Tony Levine, their best-known product is I Rub My Duckie®, a line of waterproof, personal massagers that has received international attention from retailers, consumers and the media. Big Teaze Toys constantly strives to surprise and delight customers with unique, high-quality products and services that have a fun look and feel and leave the consumer with a smile and positive feelings about their sensuality. Please visit us at www.bigteazetoys.com.
For all press inquiries, please contact Mischa Allen at Mischa@bigteazetoys.com or (818) 716-6149 or Brian Gross, BSG PR, brian@bsgpr.com or(818) 340-4422.
For all sales and marketing inquiries, please contact Karen Raehpour, International Sales & Marketing Manager, at Karen@bigteazetoys.com or (818) 716-6149.