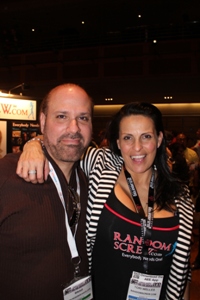 By "Bad" Brad Berkwitt
Photos by S. Waters (Copyrighted by NewzBreaker)
Anyone who followed adult movies in the late 80's knows the name Tori Welles from her sexual prowess on film, but if you didn't know, she is the type of lady who would rather show you her scars than her many awards. I borrowed this line from a 1994 Lifetime Achievement Award show where Bono gave his hand written speech, and used the line when he presented the late, Frank Sinatra, with this award.
Tori worked the Random Screw booth who was a sponsor for the AVN Awards and the company who actually redesigned the award given out for the various categories this year.
If Tori attends the 2014 AEE Expo, make sure you go by the Random Screw booth and talk with her….
NewzBreaker readers, check back SHOCKING pictures and coverage of the AEE Expo and Red Carpet for the AVN's are going up now…