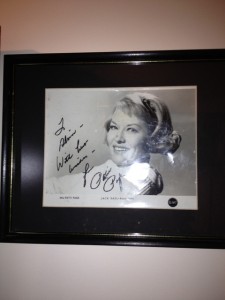 By "Bad" Brad Berkwitt
Photo from the Berkwitt Family Collection (Copyrighted)
With wonderful hit songs such as the "TENNESSE WALTZ" and "(HOW MUCH IS THAT) DOGGIE IN THE WINDOW" made Patti Page the best-selling female singer of the 1950s and a star that had a true fan following to the very end.
When unspecified health problems were reported, she finally stopped her decades of touring. At that time, Page, wrote a sad, but moving letter to her fans last year about the change.
"Although I feel I still have the voice God gave me, physical impairments are preventing me from using that voice as I had for so many years," Page wrote. "It is only He who knows what the future holds."
Page died on New Year's Day in Encinitas, Calif., according to publicist Schatzi Hageman.

My late father Alvin Berkwitt worked with Patti at a nightclub in Fort Lauderdale, Florida back in the 1960's called The Chateau Madrid. I still have the autographed picture she signed to him almost 50 years ago.
NewzBreaker extends its deepest condolences to the Page Family in their time of grief.