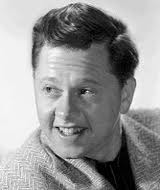 By Danny Allen
Hello NewzBreaker readers, from sunny Miami Beach where it was 82 degrees earlier today, and many were out jet sking on the Biscayne Bay. As I sat reading my trade paper, I saw a sad story about my old friend Ninian Joseph Yule, JR. AKA Mickey Rooney, who is now, 92 years old. They said, he may have Alzheimer's, which people were saying after a recent event in Palm Springs where he was disoriented when he was supposed to speak about his incredible Hollywood career. It broke my heart to read this about my old dear friend.
I remember when we first met on the set of the 1961 movie, "KING OF THE ROARING 20's: THE STORY OF ARNOLD ROTHSTEIN" which also starred my dear friend the late, David Janssen who actually invited me to set so I could meet Mickey. At this point of Mickey's career, he was already a Hollywood Legend, but his career had stalled for the most part.
My assistant Misty, who loved Mickey and wanted to meet him because they are about the same size in height, was thrilled when David's limo picked us up from my office on Sunset BLVD. Misty went on and on that she saw all of Mickey's Andy Hardy movies and she could not wait to meet him in person.
The limo showed up on the set which the day we went, David and Mickey were shooting an intense scene. When the director, Joseph M. Newman yelled "Cut", DJ as I called David came over to Misty and I and gave us a great big hug. I think her and David had a fling back then, but Misty denies it to this day. Oy Vay…
DJ yelled over to Mickey to come and meet us. The minute he came over, Misty jumped in front of him and gave him a great big hug. Mickey was smitten and said, "Well, hello to you too you cute little thing." All of us burst out laughing and the lead photographer on the set, Dangston Shapiro took a pic of Misty and Mickey together which she still has to this very day.
Misty, David, Mickey and I went to lunch in the studio cafeteria. From that day forward, we stayed in touch and became close friends up until the late 90's when we lost touch. No matter what, I hope Mickey is fine. For those of you who send me emails daily, I can tell you without reservation, Mickey is one of the nicest stars you will ever meet…