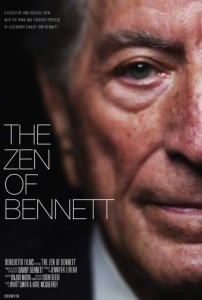 By "Bad" Brad Berkwitt
For years, I have been a fan of Tony Bennett's music which I grew up on when my late father, Alvin Berkwitt, played it in our house. Over the years, I have seen Tony twice in concert with the first, being in 1993 at the Merriweather Post Pavilion in Maryland and more recently, in 2010, at the Wolf Trap in Virginia in 2010. To say those were amazing nights is an understatement. So when I heard there was a documentary put out called: "THE ZEN OF BENNETT," I couldn't request a press copy fast enough. The DVD is put out by Bendetto Films, with the idea being conceived, created and produced by Danny Bennett, Tony's manager and son. It was directed by Unjoo Moon. Before I go into my actual review, I have to say a few things about Danny Bennett.
I do not claim to know him personally, but have the utmost respect for the love he has for his father, but on top of that, taking his dad's career to the highest of highs making good business moves that have allowed Tony in his 86th year on Planet Earth to still perform around the world to sold out audiences and amazing CD sales. Being a son of a Father that I love and respect as well, it was quite evident to see that "THE ZEN OF BENNETT" was a love letter, in a sense, to his dad.
In "THE ZEN OF BENNETT", you see and hear Tony with some of his most intimate thoughts and performances, with the likes of the late Amy Winehouse, (their duet on Body and Soul was truly amazing). Tony was devastated when Amy died, but was not shocked because of the demons that, in the end, took over her life. Tony performs with a myriad of singers to include just a few, Willie Nelson, Aretha Franklin, Natalie Cole, and John Mayer. One of my favorite parts is the banter between Danny and Tony about some innocent remarks Mayer made to Tony that Danny put his foot down in defense of Mayer.
On top of the Winehouse duet, Tony also did a very fun and different take with Lady Gaga on "The Lady Is a Tramp." The back and forth between the two performers was genuine with lots of mutual respect. All the performances were top notch.
"THE ZEN OF BENNETT" is a MUST SEE film that has something for everyone both young and old…something that Tony doesn't feel one bit…