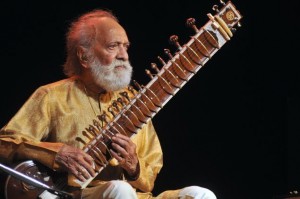 By "Bad" Brad Berkwitt
Photo Credit: V Sreenivasa Murthy
Sitar maestro Pandit Ravi Shankar passed away earlier today at the age of 92. Shankar, was admitted to the Scripps Memorial Hospital in La Jolla last Thursday after he complained of breathing difficulties. Reports say, he took his last breathe at 4:30PM, Pacific Time.
His most famous time in the limelight was when he played with the Legendary Beatle, George Harrison who he has now joined in that big concert in the sky. He would appear with George Harrison on MTV back in 1997, which would be the last interview George ever did.
NewzBreaker extends our deepest condolences to the Shanker family in their time of grief….