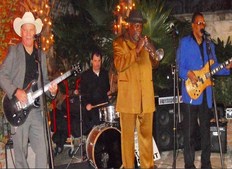 When in New Orleans, the All Purpose Blues Band can be found playing at one of the top clubs on Bourbon Street, that is, when they aren't touring. APBB plays "real" New Orleans Soul, with a collection of real New Orleans musicians.
Willie Lockett, is one of the true New Orleans blues singers. With bigger than life stage presence, he has entertained audiences for years. Willie played the trumpet with Professor Longhair's band in the late 60's. He has shared the stage with greats like Z.Z. Hill, Ernie K-Doe, Albert Collins, Wayne Bennett, Ricky Skaggs and Gatemouth Brown. His first CD entitled "Six O'Clock Blues" was released with "The Blues Krewe Band" in 1995.
Big Willie "The Hambone" Lockett, has gained popularity by playing famous venues like the House of Blues, Essence Festival, Jazz Fest and numerous clubs on world famous Bourbon St.
Paul R. Boudreaux is a native New Orleanian and self-taught musician. In 1965 while in the army stationed in Germany, he learn how to play the bass. Paul put together a small band called "The Bourbon's" and entertained the troops throughout Europe. Returning home, he joined The Bobby Williams Group and recorded ("Boogaloo Mardi Gras") for Capitol records. Paul did numerous recording sessions with Eddie Bo, Johnny Adams, and James Rivers. In 1968 he was hired to tour and record with the R&B singer, Joe Simon and also recorded with Johnny Taylor, Luther Ingram, and Isaac Hayes at Stax Studio.
Locally, he played for many years with the Soul Queen of New Orleans, Irma Thomas and performed with Aaron Neville, The Neville Brothers, Paul has written and produced CD's for the Las Vegas Connection Band, the Blues Krewe (entitled "Six O'Clock Blues") Willie West (entitled "When You Tie The Knot") and produced tracks for the rapper Choppa from P.Diddy's MTV "Makin Da Band TV Show".
Tony D'Alessandro has been a professional drummer for over twentyfive years and toured throughout Louisiana,Texas and Mississippi with a number of bands. Tony has backed great New Orleans legends such as, Frankie Ford, Luther Kent, Irma Thomas, Roland Stone and Oliver ("Who Shot The La La") Morgan.
In the mid 90's he did recording sessions with Rockie Charles for Orleans Records. Tony has a home based studio and continues to engineer and record numerous CDs for many local musicians.
Billy Gregory began to play the guitar at 9 years old. He was taught by his father who was a musician. At the age of 14, Billy was already playing gigs on Bourbon St. In the 60's and 70's he did recording sessions for Universal, Fame and Stax Records. He has toured with Professor Longhair, Johnny Adams, Ernie K-Doe, Lee Dorsey, Jimmy Reed, John Lee Hooker, Charlie Musselwhite, Mighty Sam McClain and The Neville Bros.
In March of 1971, Billy joined the band It's A Beautiful Day. Their first performance was live on San Francisco's famous KSAN radio, with host Tom Donahue introducing them as the band's two new members.
Billy lived in Italy for a few years where he and harmonica player Andy J.Forest toured Europe playing the blues. He was the house guitarist for WWOZ's piano night.and he appeared in Aaron Neville and Linda Ronsadt video, When Something Is Wrong With My Baby.
Track Listing:
Going Back to New Orleans
I'm Your Hambone
I'm Searching
Killing Floor
Sweet Disposition
Willie on the Phone
From Memphis
V-8 Ford
Cornbread and Cadillacs
I Got Everythign I Need
Walk In My Shoes
A Change Is Gonna Come
Website: http://apbluesband.com
Order Link: http://www.seeofsound.com/p.php?s=MVD5430A