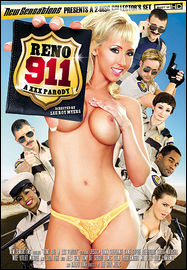 By Misty Emerald
New Sensations brings you Reno 911 – A XXX Parody, starring Jack Lawrence as Lieutenant Jim Dangle. Jack Lawrence (Dangle) shows off his oral talent and his testicles with an extremely convincing impersonation of the booty short wearing Lieutenant. Jack does it again and breathes new life into a character that we have already come to know and enjoy watching. Who knew Dangle could be so damn sexy?
Join the porn star studded cast as Dangle struggles to maintain order when the Reno Police welcomes a new Deputy, Sara Perkins (Natasha Nice) to the Force. The guys, Junior (Mr. Pete), Garcia (Ralph Long) and Jones (Tyler Knight), find it difficult to control their erections when the busty Deputy Perkins hits the scene. Who will be the man standing inside the Rookie as Jones and Junior set out to pursue the Cookie during her first Grave Yard Shift?
Dangle and Junior take viewers on a jail tour to meet Death Row inmate Rodney (Tony De Sergio) who is an avid Sperm Donor that masturbates feverishly during his introduction. Meet female prisoners played by Sophie Dee and Stephanie Cane who share a cell and endure subtle tactics from the male Officers, who occasionally toss dildos into their cell to prod them into partaking in a Lesbian tryst.
Raineesha (Jada Fire), Trudi (Violet Monroe) and Clementine (Jessica Flynn) are up to their own antics and bare it all in this hilarious rendition of Reno 911 . Clementine goes undercover in a Prostitution Sting and shows her true dedication to the uniform, when she goes all the way with her perp (Alex Gonz). Trudi teams up with Garcia to respond to a Domestic Violence dispute with rapper "Lil Whitey" (Brian Street Team) and his girlfriend (Alexa James) after he drops a load on her face while she's napping. Trudi persuades Dangle to put down the glazed doughnut and eat her instead to kill some time while they wait for the other Deputies to join them in the Briefing Room.
Raineesha takes down a roller skating ball flasher (Eddie Adams) for indecent exposure in a public park, and gets her man once again when she goes home with Garcia to unearth the ultimate eruption.
Comically erotic, Reno 911 – A XXX Parody will literally have you wetting your pants. Entertainingly funny and packed full of sex scenes, you won't know whether to laugh out loud or get off.